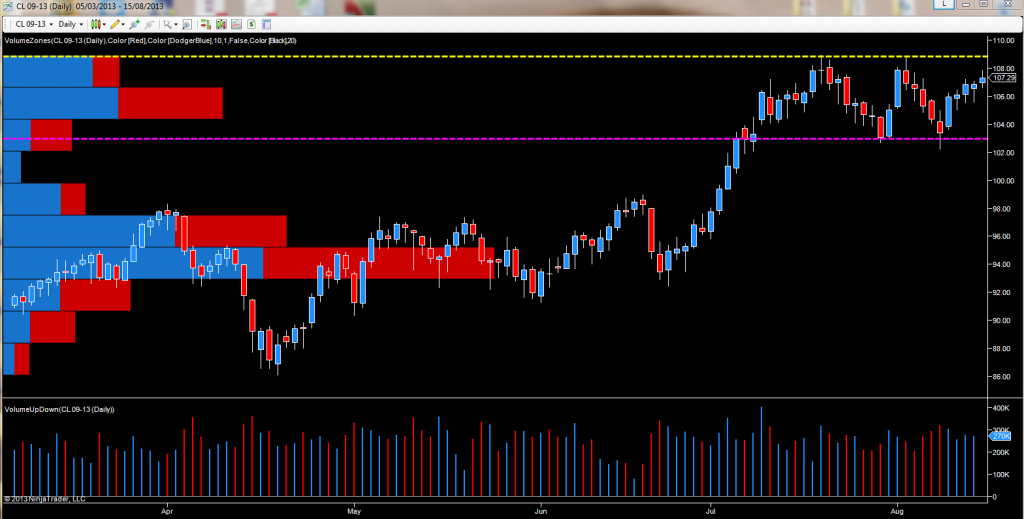 The WTI September crude oil futures contract is now building into an interesting phase of price action, and in many ways is mirroring a similar period between May and July 2013, where the commodity oscillated between $92 per barrel to the downside and $98 per barrel to the upside, before finally breaking out.
Since July the commodity has been trading in the range shown on the chart with the yellow dotted line denoting the $109 per barrel level and the purple line the $103 per barrel price zone. To date we have seen two attempts to breach the upper resistance, coupled with two tests of support at the lower price level. As I suggested two weeks ago in an earlier blog post, the pullback of early August duly arrived, with subsequent support from a doji candle and high volume providing the trigger for a return higher.
However, the price spread on all of this week's candles has been extremely narrow, suggestive of a market lacking any bullish intent. It is also interesting to note that volumes this week have been above average (despite the traditional summer lull) which reinforces this view.
Even the draw recorded in yesterday's crude oil inventory figures, which came in at -2.8m bbls against a forecast of -1.4m bbls failed to provide any momentum.
The question now is, where next for crude oil, and given the above, what is self evident from the daily chart is resistance at $109 per barrel is the key. Even more so when we consider the volume at price congestion on the left hand side of the chart. Any failure at this level could then create a triple top, triggering a sell off in the commodity. However, should this be breached then it will open the way for a further leg up in crude oil's journey towards $112 per barrel and beyond.
For intra day oil traders there may be some short term trading opportunities to the downside, but for longer term trend traders the watchword is patience and to wait for any breakout, should it arrive. As always any move away from such a deep congestion zone will need to be accompanied by ultra high or high and rising volume for the move to the validated. As we saw in the breakout of early July.
By Anna Coulling