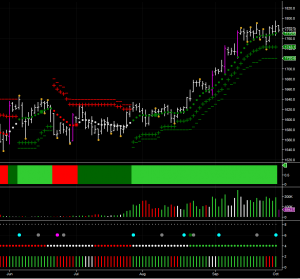 December gold futures once again ended the trading session today moving in a narrow range, and closing at $1776.20, having opened the day marginally higher at $1785.60 before pulling back to end as an inside bar on the daily chart. So where next for the price of gold?
Over the last three weeks we have seen gold consolidate between the $1743 per ounce level to the downside and the $1775 area to the upside, as this area of price consolidation continues to build, and with the pivots defining both the upper and lower levels. In particular the isolated pivot low of last week as shown with the yellow dot, gave  the market a firm platform of support and a push back into the congestion area once again.
What is interesting however, is the price action over the last few days, with each daily bar closing with a higher low, giving a clear signal that any breakout from this range is likely to see gold move firmly higher in due course, and well beyond the $1800 per ounce region, last seen in February earlier this year. This bullish momentum has been given a further boost with strong buying volume now appearing on both the daily and the three day chart, and on the slower timeframe in particular, the selling volume in red, has now been replaced with buying volume, both yesterday and today.
In addition, throughout this period, the three day trend has remained firmly bullish, and with our trading indicator also  confirming this sentiment, we can now expect to see gold futures break out from this trading range in due course. Indeed in yesterday's gold trading session this was further confirmed with a conservative signal, suggesting that any breakout is now imminent. Once clear of the current price region, we can expect to see a further move higher in the current longer term trend, and on towards the $1900 per ounce region as we move into 2013.
By Anna Coulling