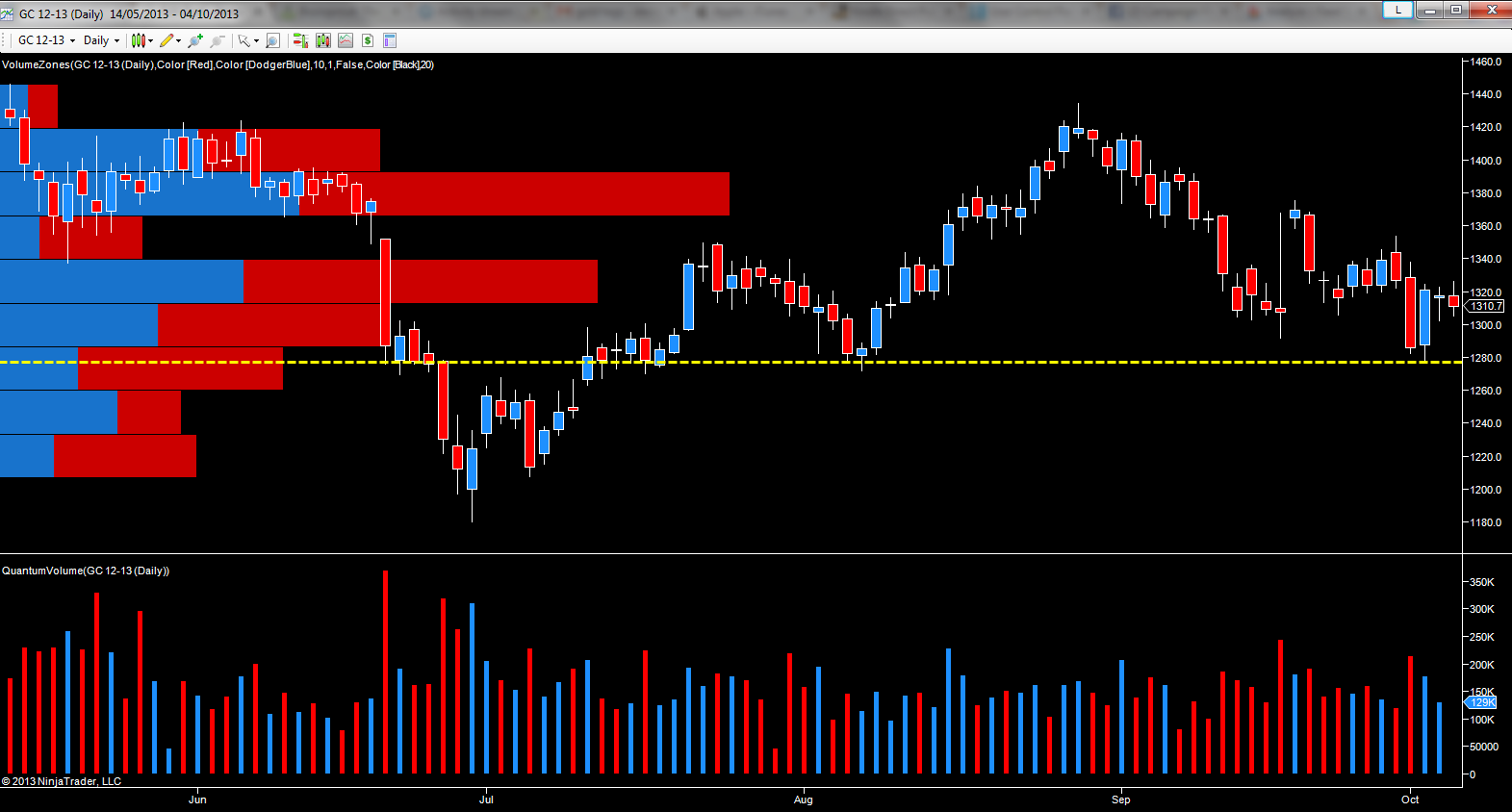 For commodity traders, perhaps the opening of the classic novel A Tale of Two Cities, best describes the price action for gold over the last two years: 'It was the best of times, it was the worst of times'. Long since forgotten are the heady days of summer 2011, when gold was tipped to break above the psychological $2000 per ounce region, with some analysts even suggesting that $10,000 per ounce would be reached in short measure. Those halcyon summer days are now just a dim and distant memory, as the precious metal continues to languish and wallow in the lower reaches of the $1300 per ounce area, like some stricken ship, holed below the waterline.
It is perhaps one of the many ironies, that even in today's unique backdrop with the prospect of a debt failure in the US, and the forced deferment of the NFP release as a result, that even this, has failed to provide gold with any upwards momentum, as it continues to trade with a heavily bearish tone. The lurch lower on Tuesday, accompanied with well above average volume, was further evidence of the lack of buying interest at this level. What is perhaps even more odd, is that given the weakness in the US dollar, even this has failed to ignite a spark of interest as the December gold futures close another dismal week at $1310 per ounce, with a deep area of price congestion immediately overhead.
Below, the key level is now clearly defined in the $1280 per ounce region as shown with the dotted yellow line, and should this be breached, then bearish momentum could accelerate further and back to test the $1220 per ounce price point in the medium term. Indeed, there is nothing on the daily volumes to suggest that we are seeing any buying at this level, and with the deep areas of price congestion now overhead on the volume at price histogram, any recovery will need to see high and ultra high volumes, more akin to those late May, for any recovery to be sustained.
Even the Chinese appear to be losing their appetite for the gold, and it has been suggested, that continued buying here, is all that is keeping the metal from falling far and fast at present. Longer term, inflationary pressures will come to the aid of gold once again, but in the short and even the medium term, the outlook remains gloomy as we wait for those halcyon summer days to return once more.
By Anna Coulling