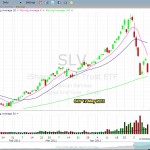 A sudden surge in the US dollar has been one of  the triggers for a second round of carnage in commodities with oil, gold and silver all falling heavily and with the Jeffries/Reuters CRB index also falling almost 9% since the beginning of this month this has led to many traders and investors starting to question whether the recent bull run in the commodity sector is coming to an end, adding further selling pressure to an already bearish picture.   Needless to say  such a major reversal in the commodity sector has also spilled over into equities with both the Dow and S&P500 selling off sharply as a consequence.  Indeed last week's candle pattern on the S&P500 ended as a "dark cloud" over which is often a precursor to an imminent reversal.
The question now, of course, is whether markets have really taken fright or whether they are simply correcting from their recent strong move up.  Following the first pullback in commodities last week many were tempted to re-enter the fray leading to what is colloquially known as a "dead cat bounce", in other words, one that doesn't rebound very higher.  Typically, prices for two to three sessions, tempting traders and investors back in, before collapsing once again.  The bad news about a "dead cat bounce" chart pattern is that it is often the start of a much longer term trend lower.   For such an event to be classified as a "dead cat bounce" prices have to fall by at least 30% in the initial move and as I have had so many emails about silver I thought it would be useful to consider the SLV ishares silver trust which can be used as a proxy for the silver market in general for further confirmation or otherwise of this phenomenon.
Since achieving the high on 28th April of $48.35 the SLV promptly fell on five consecutive days with dramatically increasing volume on each, none of which was stopping volume and all of which was selling pressure.  The consequent balance of the subsequent three days following the fall was characterised by falling volume and narrow spreads, a classic signal of weakness which was confirmed in yesterday's trading session which closed as a wide spread down candle with above average volume, once again indicative of substantial selling pressure.  Clearly the market is not ready to turn and will only do so once all this selling pressure has been absorbed which will be signalled on the chart by the right combination of price and volume and a potential reversal higher. As traders and investors (myself included) we are all very impatient but the correct signal may take days or even weeks to appear.  Price levels to watch are now $32 and $24.17, the latter being a 50% retrace from the most recent high.