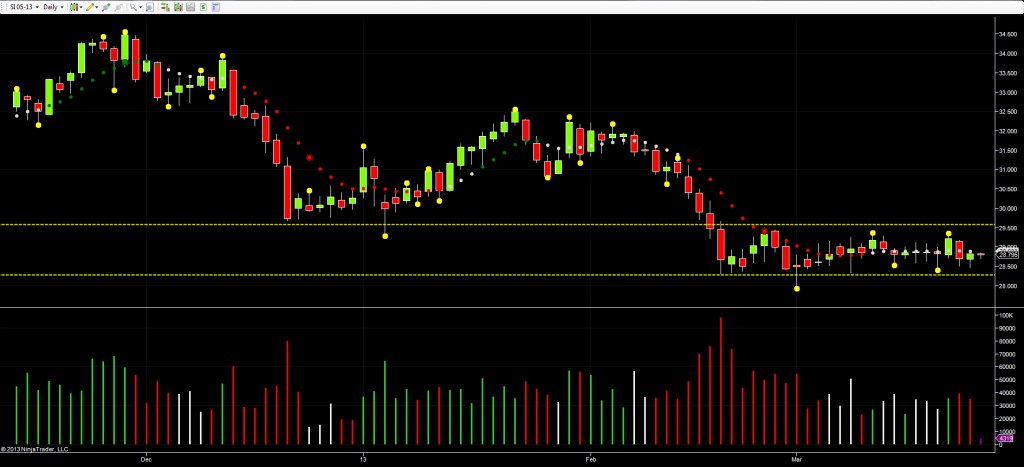 As the old saying goes, another day and another dollar. Well not quite, and for silver traders it's getting to the stage where a dollar move in the trading session would be considered a significant one! Yesterday's trading, certainly didn't break the mould of the last few weeks, and traders must be wondering if this market is every going to break.
The isolated pivot high of Thursday last week once again confirmed the upper region of price resistance, if any further were needed, just below the $29.50 per ounce level, with the isolated pivot lows, defining support, in the $28.50 per ounce area. The question, that all commodity traders are now asking, is which way will the breakout come, when it finally arrives.
Yesterday's price action gave no clues, ending marginally higher, and currently trading at $28.80 per ounce on Globex in overnight trading. Volumes on the daily chart remain low, and the most significant aspect of volume, was following the price waterfall of late February, which saw volumes increase dramatically, as the the metal moved from $32 to $28 per ounce, followed immediately by lower volumes on subsequent down candles.
This in itself suggests that we selling pressure has been absorbed and that we are now in an extended phase of accumulation, as the market prepares to rally. Indeed to support this analysis, we have already seen several hammer candles during this consolidation phase, again with falling volumes on each subsequent test, again suggesting that any selling is being absorbed.
By Anna Coulling
Come and join my live training room and discover why in today's complex markets price behaviour holds the key to your trading success.