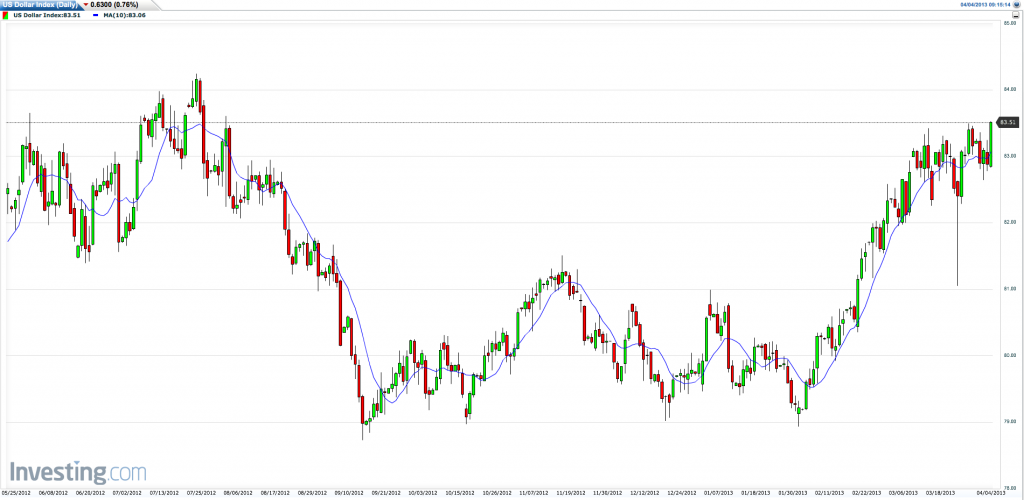 For those of you reading this, and old enough to remember, there was a comedy film many years ago with Spencer Tracy in the lead. The title of the film was 'It's a mad, mad, mad, mad world, and I mention here for two reasons. First, whilst I won't bore you with the plot, the culminating sequence is the search for the stolen money, and the only clue is 'the big W', which turns out to be several large palm trees in the shape of a W.
This perfectly describes the pattern on the daily dollar index chart. It is the perfect W, and with the price action now centered around the 83.50 region, the next few days could be pivotal if the current bullish momentum for the US dollar is to continue. Over the last few weeks, the index has traded in a narrow range, and for a continuation of the current trend, we now need to see a clean break and hold beyond this region and on towards the 84.20 level of 2012.
The second reason for mentioning the above film, is that it encapsulates what is happening in the markets at present, with little of the current volatility in markets, reflected in the US dollar index. Indeed the once reliable relationship with the US dollar appears to have broken down completely at present. Take commodities for example.
Over the last few days we have seen major moves in several markets. Silver has broken out, following an extended phase of consolidation, and if the current level fails to hold at $26.50 per ounce, we could see silver plunge lower to test the $20 per ounce area. Gold to, has collapsed in volatile trading over the last few days, and plunging lower through the $1600 per ounce level to trade this morning at $1548 per ounce, following another bearish session overnight on the April futures contract on Globex. Soft commodities have not been immune. Corn, wheat and soybeans all fell sharply during the final trading session of March, following the shock USDA release which reported that crop acreage was at the highest levels since 1936.
The currency markets have not been immune either, and indeed in overnight trading the Japanese yen has sold off sharply, sending the USD/JPY soaring higher as the Bank of Japan dramatically changed it's policy on quantitative easing. Basically its QE on steroids!
So how has all of this been reflected on the dollar index chart ? Well the short answer is, that is hasn't, which is why, at the moment, it seems that the mad, mad world of the US dollar is set to continue for a while.
By Anna Coulling