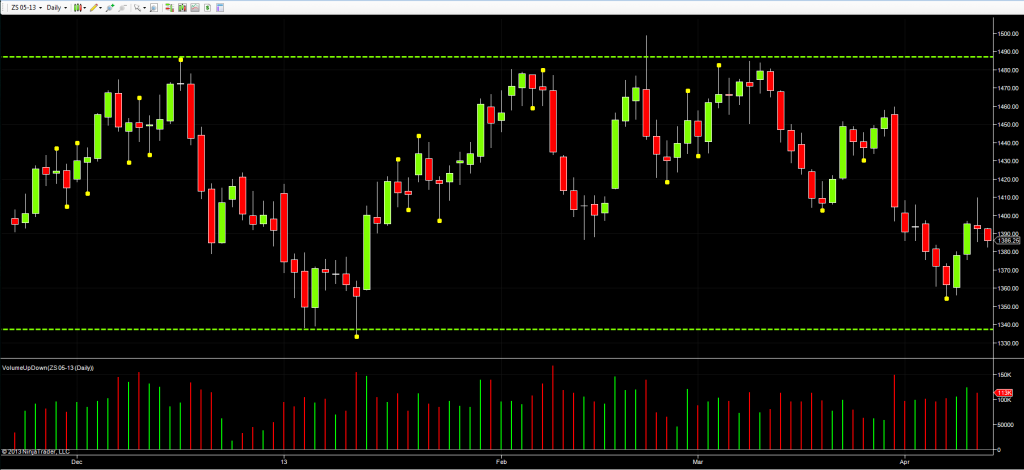 As the shock waves subside from the recent USDA report at the end of March, which sent the soft commodities plunging lower, Soybean futures, along with oats and corn have been desperately trying to find some much needed momentum, to regain some of the losses the report triggered. Indeed in the last few days, the May soybean futures contract, did just that, recovering from the 1355 cents per bushel low of Friday, to move higher with solid gains on Monday and Tuesday, with the pivot low giving some much needed momentum.
However, this short term recovery came to a shuddering halt yesterday, with the market posting a shooting star candle on the daily chart coupled with high volume, a signal that the bullish momentum has evaporated, and subsequently replaced with selling in yesterday's trading session. Indeed this negative tone has already appeared overnight on Globex, with the contract moving lower to trade at 1386.25 cents per bushel at the time of writing.
The only positive news for bullish soybean commodity traders, is that from a technical perspective the support line, as shown in green, has yet to be tested. This is a key level for the commodity in the 1337 cents per bushel region.  If this is breached, then expect to see sustained weakness in soybean futures in the short to medium term, with the possibility of a much deeper move towards the 1200 cents per bushel level in due course.
By Anna Coulling