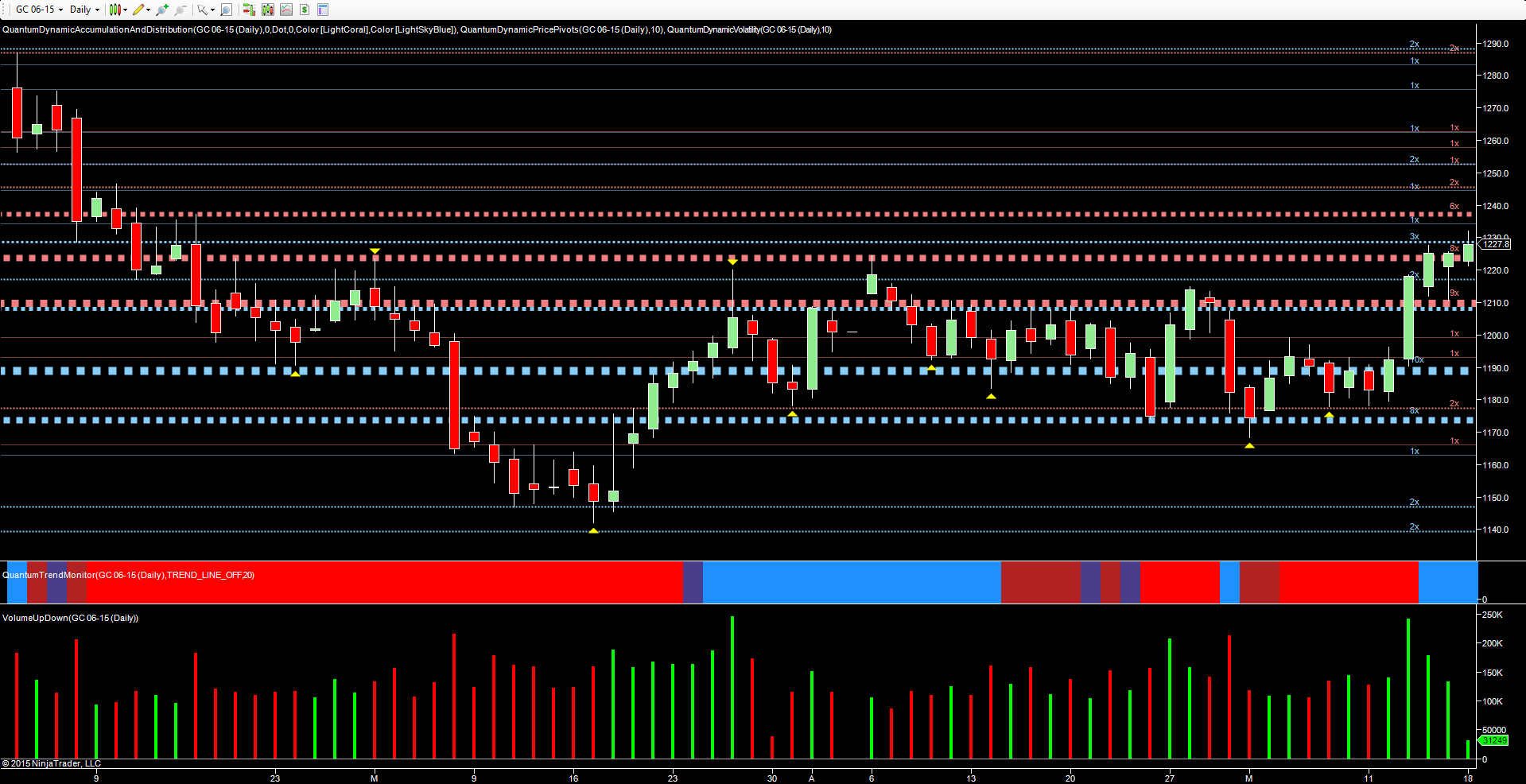 Last week was a positive one for both gold traders and investors, in spite of the longer term outlook for the precious metal still looking bearish. Nevertheless gold bugs will have been cheered by four straight days of gains, which saw gold move firmly through the resistance at $1210 per ounce to close the week at $1225.30 per ounce, and testing the next key level of resistance on the daily chart. Last week's price action was also fully supported with good volume, with Wednesday's wide spread up candle confirming the intra day bullish sentiment, with Thursday and Friday's price action then following through albeit on falling volume, but in line with the price action. Indeed Friday's wick to the bottom of the candle hinted at further upside momentum, and on Globex overnight, and into the early session, gold has continued to ease higher and peek over the resistance at $1225 per ounce. Should the precious metal hold above this level, then we can expect to see further gains for gold in the short term, and perhaps even a test of the next level at $1238 per ounce from an intraday perspective.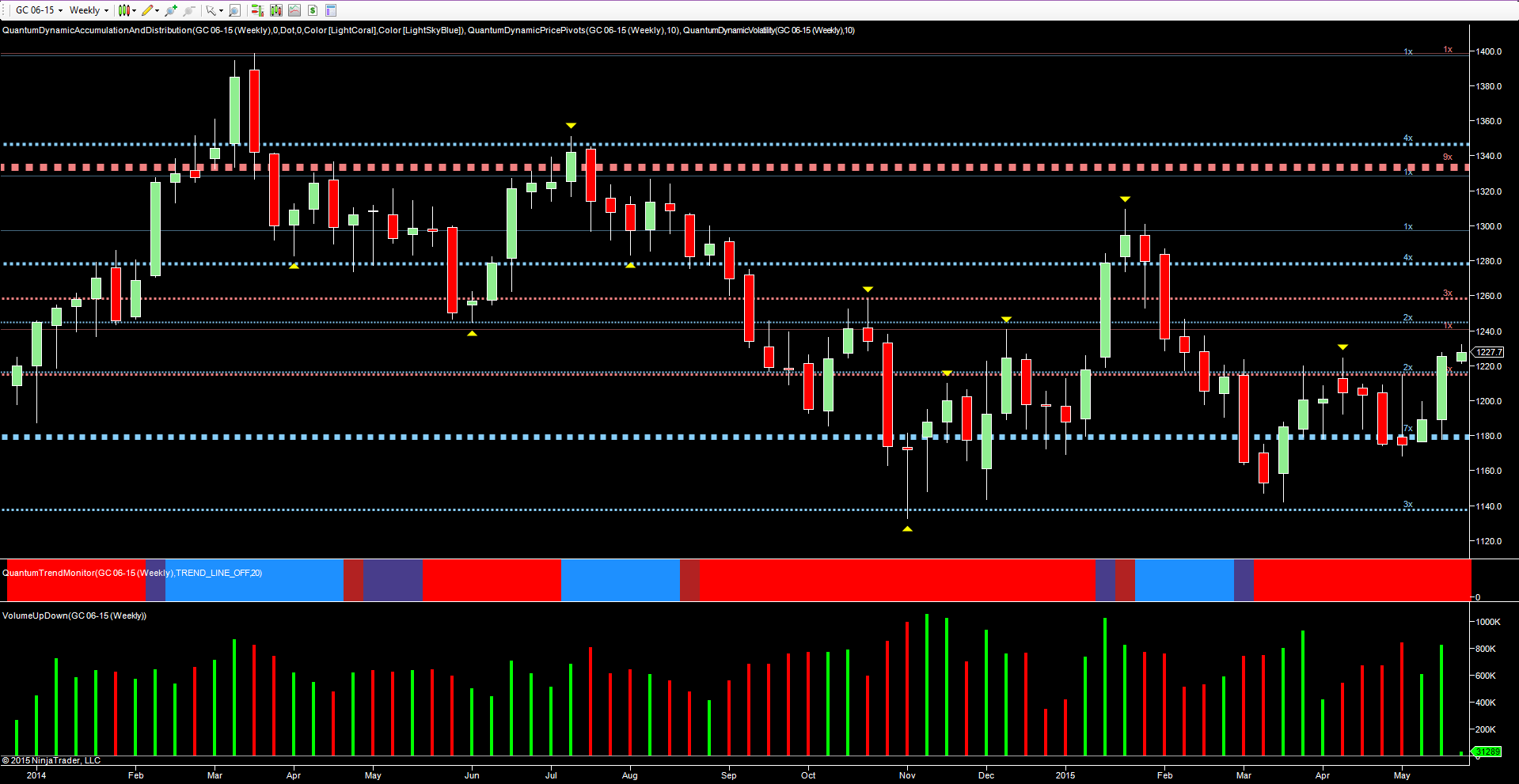 Moving to the weekly chart, this confirms the longer term picture, with last week's positive sentiment closing as a wide spread up candle with the platform of support in the $1180 per ounce region holding firm and providing the springboard for the move higher.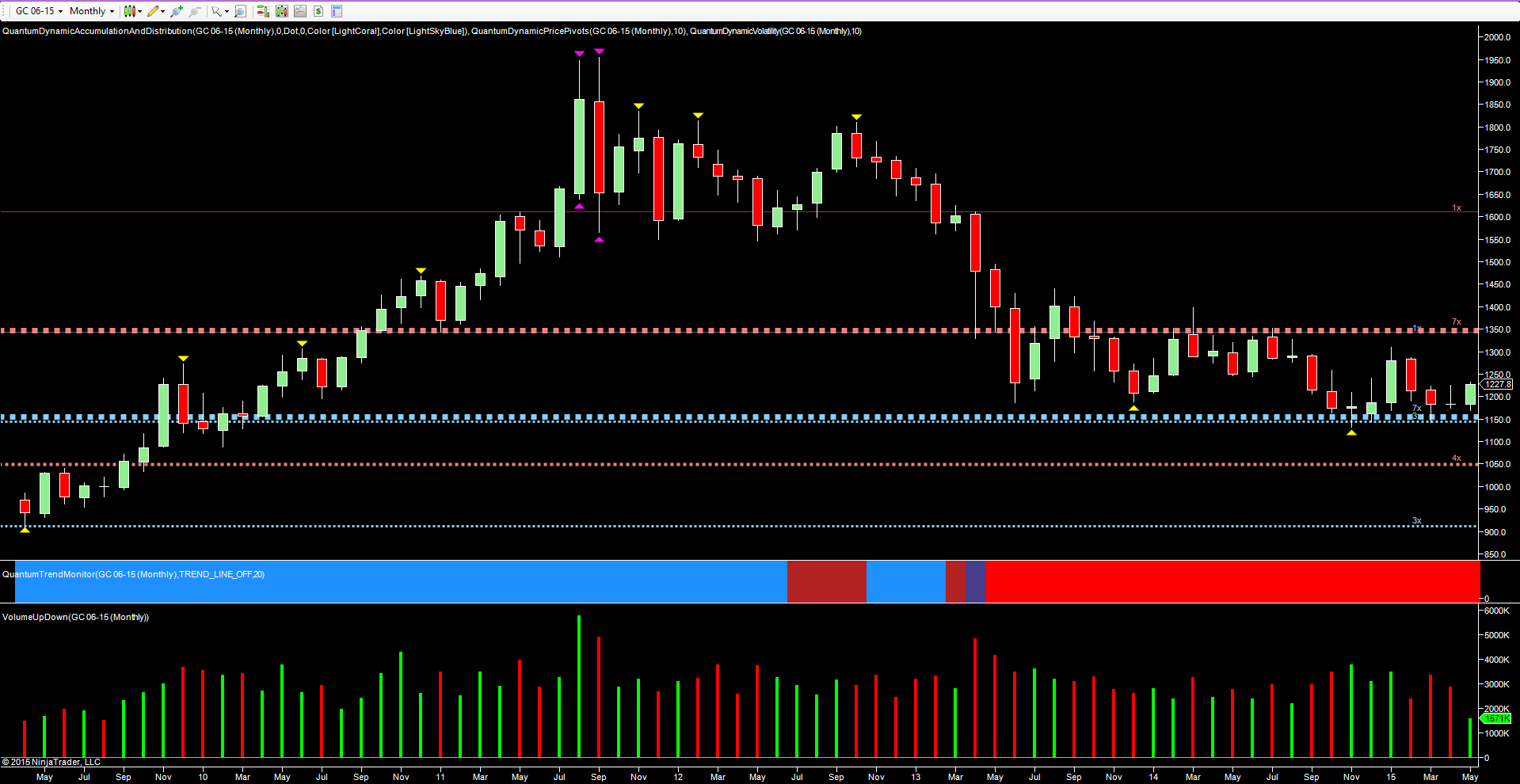 Finally, the monthly chart completes the picture and confirms the congestion phase that continues to build in this time frame. Once again, the platform of support in the $1150 per ounce area has held firm, and with the equally well developed ceiling of resistance overhead in the $1350 per ounce region looming large, until one of these is breached we can expect gold to continue to consolidate between these price levels. Only a move beyond one of these levels will then signal the end of congestion, and signal the start of the next trend for the metal.
From a fundamental perspective much of the positive sentiment for gold last week came from increased buying from German investors following rotation out of the bond market and into other asset classes with gold one of the primary beneficiaries. In addition, the recent weakness in the US dollar has helped to push commodities higher. However, with the continuing weak economic outlook in the US, and even deflation back on the horizon, the longer term prospect for any inflation remains uncertain. In such a scenario, gold is unlikely to see any major inflows, and certainly not until interest rates begin to rise on the prospect of economic recovery.
By Anna Coulling
Charts are from NinjaTrader and the trading indicators from Quantum Trading.