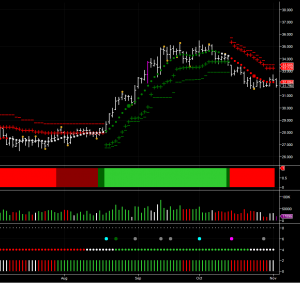 The December silver futures contract closed yesterday's trading session looking weak ahead of the Non Farm Payroll release, having attempted to rally during the session,  to close just 2 cents lower that the opening price at $32.27 per ounce. Just like gold, which of course, silver follows closely, the short to medium term outlook for the industrial metal remains bearish, and indeed at the time of writing, and ten minutes after the NFP release, the contract is currently trading lower at $31.78 per ounce, as it tests the short term platform of price support at this level.
Yesterday's move higher was accompanied by no demand volume on both the daily and the three day chart, sending a strong signal to traders that the market remained weak, a view further confirmed by our trading indicator which is firmly bearish on the daily chart. The key to the longer term trend is twofold. First we need to see a technical break below the $31.50 per ounce region, and second, we also need to see the three day trend complete a full transition from white to red, which will then add further momentum to the move lower. If silver prices do break below this level, then we could even see a re-test of the $28.00 per ounce level in due course, which should then provide the platform of support for a bounce higher and a reversal of trend.
However, much will depend on the US dollar, which is breaking out of recent sideways congestion and building on a strong platform of support below in the 79.00 to 80.00 region on the daily chart, and with little in the way of price resistance ahead, the US dollar looks set to climb further to test the underside of this area at 81.50. At this point we could see commodities in general and silver in particular, pause, which for silver is likely to be in the $30 per ounce region. Much of course will also depend on the outcome of the Presidential elections next week, which are now getting back into full swing following the devastation of Hurricane Sandy. For silver of course, the dynamics are somewhat different to that of gold, with the broader economy and industry demand, the US dollar, and safe haven status all playing their part.
From a technical perspective however, expect to see further weakness for silver prices in the next few weeks.
By Anna Coulling