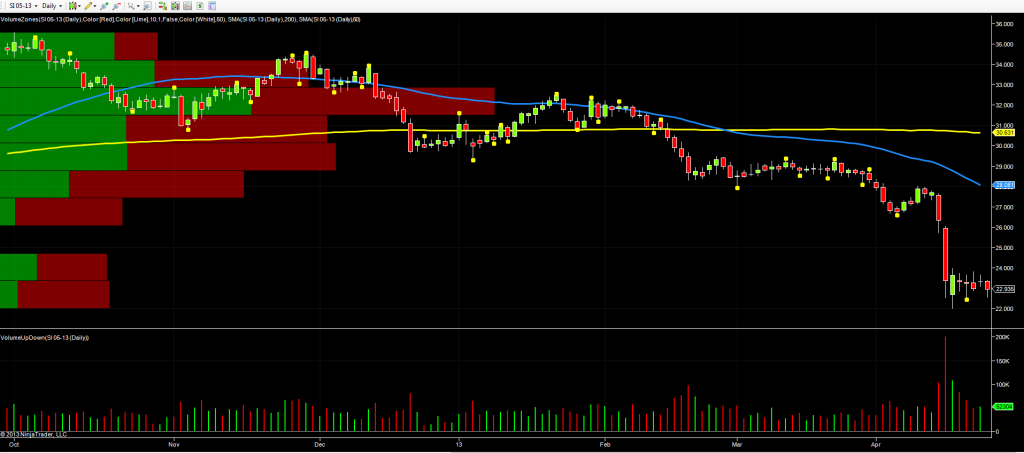 Silver futures continued to trade in a narrow range once again today, desperately trying to find some traction in the $22 per ounce level, following the dramatic falls of last week, which saw the metal plunge through the floor of potential support in the $26.50 region and on down to test the next major level at $20 per ounce. This still looks the likely target for silver which remains heavily bearish, and today's positive move higher on the dollar index, has done little to help the recovery, with the contract currently trading at $22.92, down from the open at $23.34 per ounce.
Over the last few days we have seen every attempt to rally fail, and even the isolated pivot low coupled with a doji candle, failed to spark any momentum, with the $24 per ounce level, now starting to build it's own resistance area. The volume at price histogram on the right hand side of the chart is also starting to build, and the longer this congestion phase continues, then the more volume will be required for any upside move higher.
Moving to the more traditional volume bars at the bottom of the chart, the only comfort that silver bulls can take from the current picture, is the decline in selling pressure with the volume bars falling significantly under the down candles, and it will be interesting to see the associated volumes later tonight once the market has closed. Should today's volumes also be low, with a down candle, then this may reinforce the view that selling pressure is being absorbed. However, as Wyckoff always said – cause and effect go hand in hand, and for any major reversal, the cause will need to be sustained for some time, if this is to be reflected in a longer term effect.
The death cross above is hardly a portent of good news with the 50 sma diving ever deeper below the 200 sma. But where there is life there is hope, and for more pragmatic traders there is always volume!
By Anna Coulling