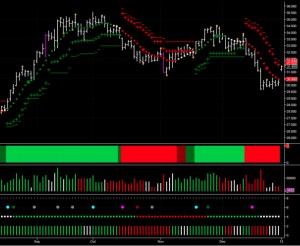 Having ended 2012 in congestion ahead of the fiscal cliff drama, silver has started 2013 in positive mood, opening the floor trading session gapped up at 31.17 per ounce and clearly picking up the bullish tone of equities.  The question now, of course, is whether this is merely a temporary reaction or potentially the start of a new trend higher for the metal as the tone for silver has been firmly bearish, as for gold, since mid December.   This negative sentiment was given a further boost following the break below the 32.50 per ounce level which saw the metal break below the solid support in this price zone – which is now resistance.
The volume indicators are particularly revealing in that volume has been declining on the daily chart for much of December, suggesting that selling pressure was easing and signalling a possible slow down in the bearish sentiment, as a result.  With both price action and volumes declining this is a potential signal of a lack of selling pressure and a possible change in sentiment, although the holiday effect would also have had a part to play in this scenario.
The three day chart also reflects a slow down in selling pressure with the last few trading sessions moving from red volume into white no demand.   The three day trend has yet to transition to bearish and also remains in congestion and indeed for any longer term reversal we will need to see this move back to green in due course.
From a technical perspective the key price level is now in place just below the $32 per ounce level where a strong level of price resistance now awaits.  For any bullish trend to develop this level will need to breached and at present this seems unlikely, despite today's gap up.
By Anna Coulling