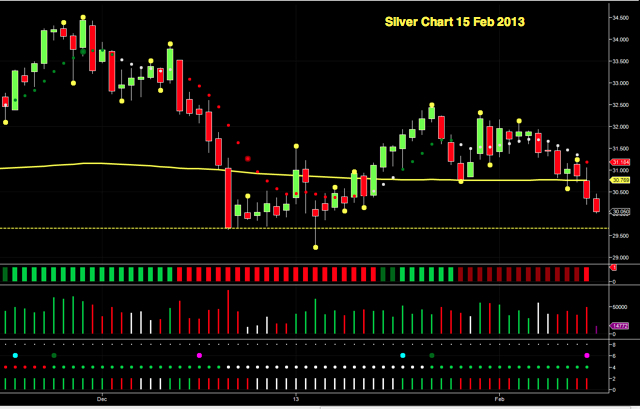 Like gold, silver too is heavily bearish with the silver price on the March contract now breaking through the 200 ma and moving deeper in this morning's Globex session to test the $30 per ounce level.
This negative picture for silver is further reinforced in several key technical areas.  First, on the daily chart we have an isolated pivot high posted at $31.24 on Wednesday.  Second, the daily trend has now transitioned from congestion (white) to bearish red following yesterday's price action.  Third, the heat map has also transitioned fully to bearish.
Finally, volumes in both our time frames are now heavily bearish and rising, all suggesting that silver prices are heading sharply lower.  All of this, of course, is against the backdrop of short term dollar strength which is adding to the current market momentum.
The next platform of support is now clearly visible and defined in the $29.65 (the yellow dotted line) and any move through here will see the isolated pivot low of early January at $29.23, tested in due course.
By Anna Coulling
Come and join my live training room and discover why in today's complex markets price behaviour holds the key to your trading success.