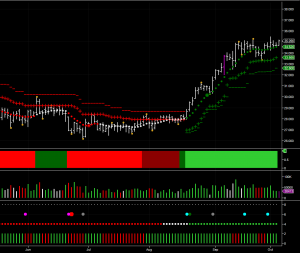 December silver futures ended yesterday's trading session at $35.09 per ounce, once again trading in a narrow range at this level, with the metal continuing to move sideways and following a similar pattern to gold on the daily chart. As with gold, so with silver, and the industrial metal is now preparing for a major breakout to the upside and a resumption of the bullish trend of late August and September, with some clear signals on the daily price action. The most significant of these is the price action of late last week and for much of this week, where the low of each daily bar, is higher than the pre-ceeding bar, giving a strong signal that the breakout when it arrives will be to the upside. Indeed the longer that this sideways congestion continues at this level, then the more explosive will be the breakout when it occurs, and indeed for options traders, both gold and silver are currently ideal for trading a straddle strategy. The lower level of the current congestion is clearly defined by the pivots in the $33.75 per ounce region, whilst to the upside the pivots are clustered in the $35.00 per ounce level, so once again, and as with gold, a very narrow trading range. Just as with the daily gold chart, silver is also consolidating into a pennant formation, adding further weight to the analysis.
Our trading indicators are also confirming this view, with the daily trend for silver having remained green throughout this recent pause, and with only some minor selling volumes appearing on the daily chart last week, the volume has been bullish throughout September and into early October. The three day trend has also remained firmly bullish throughout following the breakout of mid August which provided the initial springboard for the move higher. Again here, we have seen only minor periods of selling volume with the dominant volumes remaining green. Finally of course the trading indicator gave us a great entry signal back ion mid August at the start of the current trend, and this has been confirmed several times since, with a variety of confirming signals, the last of which arrived on Monday this week, once again confirming the bullish sentiment for the metal.
As with gold, patience is the key here as we wait for the breakout to arrive. Once it does then this will be dramatic, and we can expect to see silver prices move firmly higher to test the $38 per ounce region in the short term and on towards $40 and beyond into the new year, as both gold and silver look set to break into new high ground in 2013.
By Anna Coulling