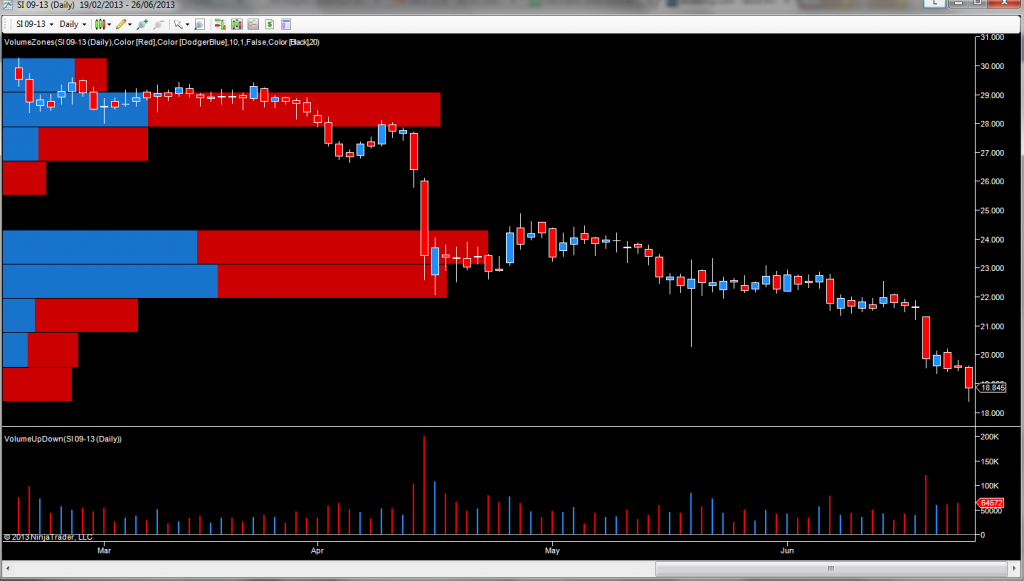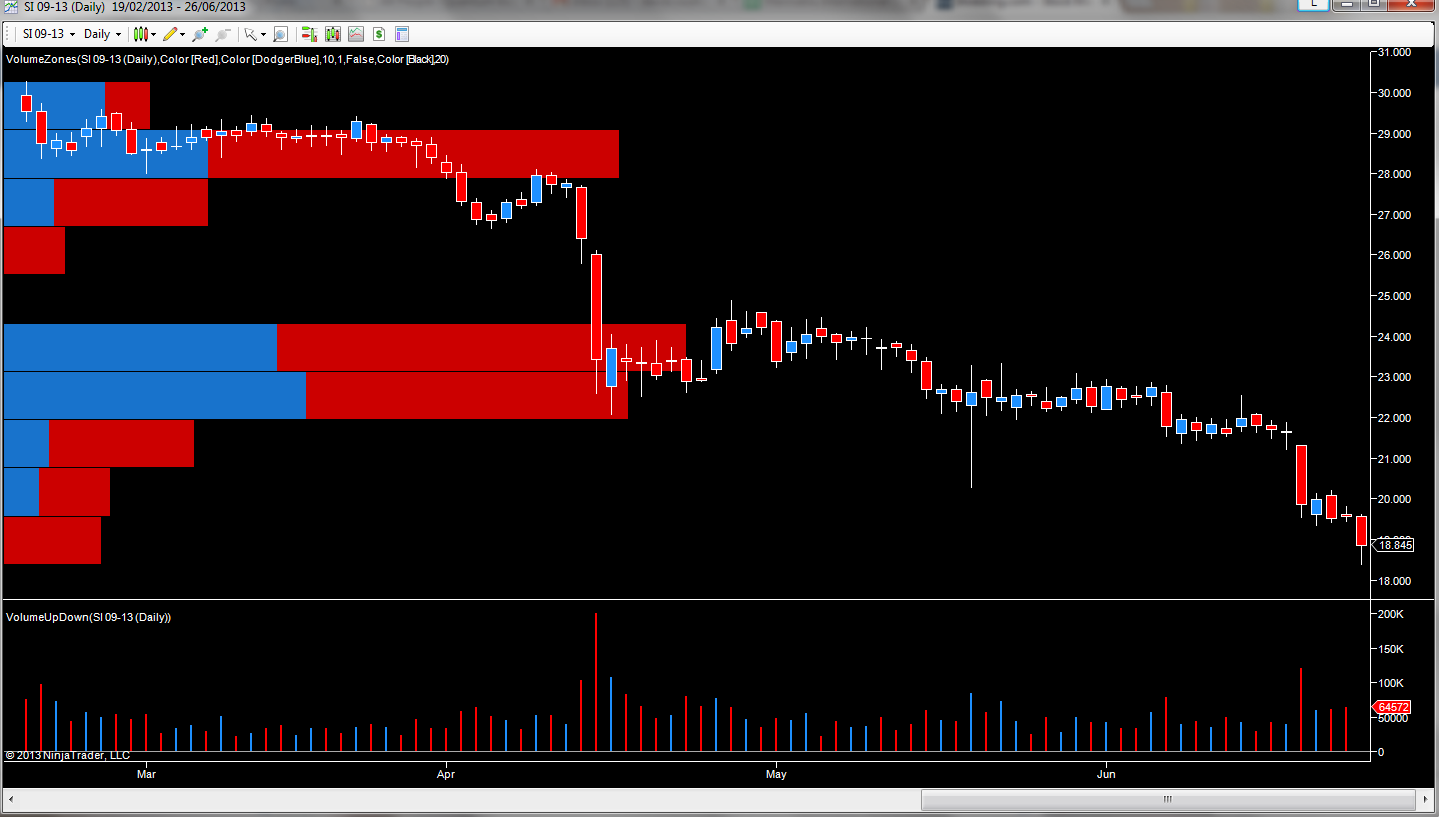 It's been a torrid time for all commodities, but particularly so for silver. As a trader and market analyst I have been writing about the industrial metal for several years, ever since it was trading at below $10 per ounce, so have witnessed its meteoric rise and subsequent dramatic sell off. Without doubt, it is one of the most volatile instruments anyone can trade. A real heartbreaker! And if I were to add up all the emails received over the years, questions about silver would dominate.
Several weeks ago I suggested that patience would pay off handsomely to those silver traders willing to wait, as silver traded in a tight range throughout May and into early June, between $21.50 and $23.00 per ounce. That patience has now been rewarded with a structural collapse of silver on the daily chart, and one which is mirrored on the daily gold chart, with the industrial metal breaching the floor of support at $21.50 and plunging lower to test the $18.00 per ounce level and below.
This breakout was on high volume, validating the wide spread down candle which accompanied the move, and we now have further downside momentum supported by rising volumes.  And if any further evidence were needed of the struggle silver now has to regain any positive momentum, we only need to consider the volume at price histogram (left hand side of the chart), where we now have two ultra high bars in the $21.50 to $24.00 per ounce price region. In addition the balance of market sentiment depicted in these bars is heavily bearish.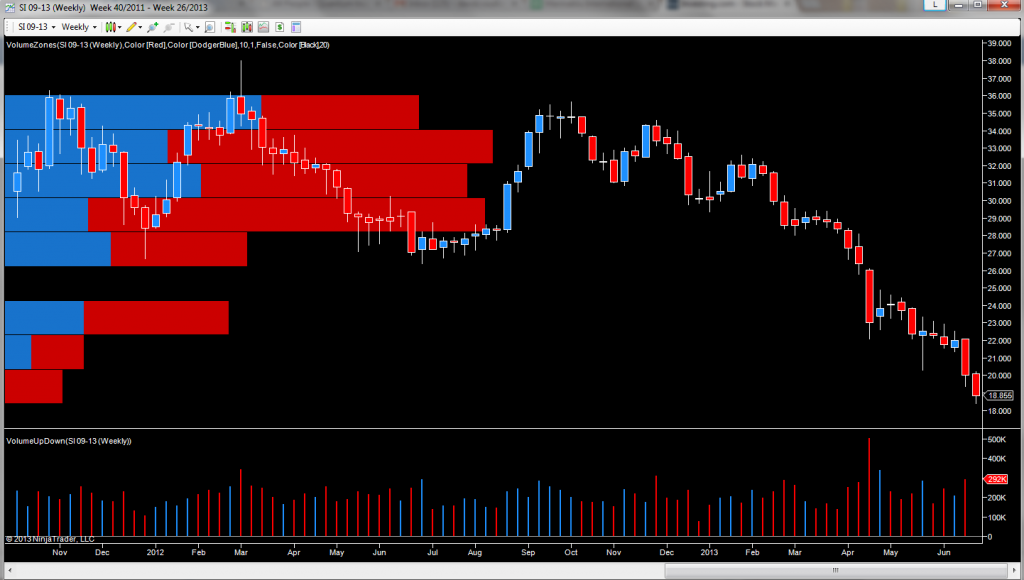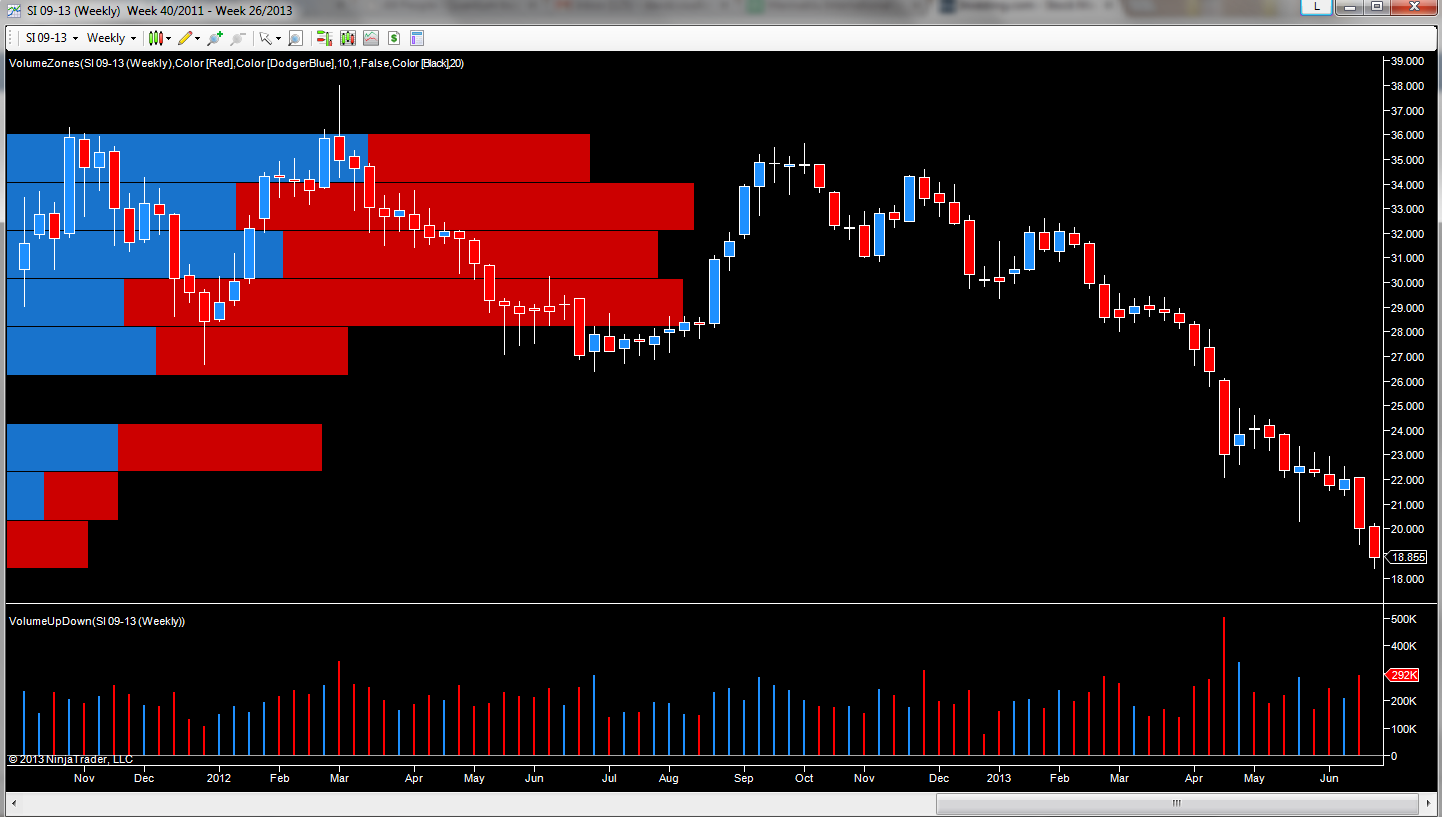 Moving to the weekly silver chart, here we have a classic representation of a longer term downwards trend, displayed in several ways. First we have the classic series of lower highs and lower lows defining the trend lower. Second we see clearly marked the tumbling lower of the silver in a series of rounded tops. Third we have the associated volume which reinforces and validates this bearish sentiment. Indeed whenever the silver price has attempted to rally during this long period lower, it has always been on falling volumes or high volume on a narrow spread candle, both classic signs of weakness.
Finally the volume at price on the weekly chart not only substantiates the current pessimistic outlook for silver, but also confirms the depth of price congestion now sitting between $25 and $36 per ounce. A deep and solid wall that silver will have to face in any future recovery which is unlikely to happen soon.
By Anna Coulling