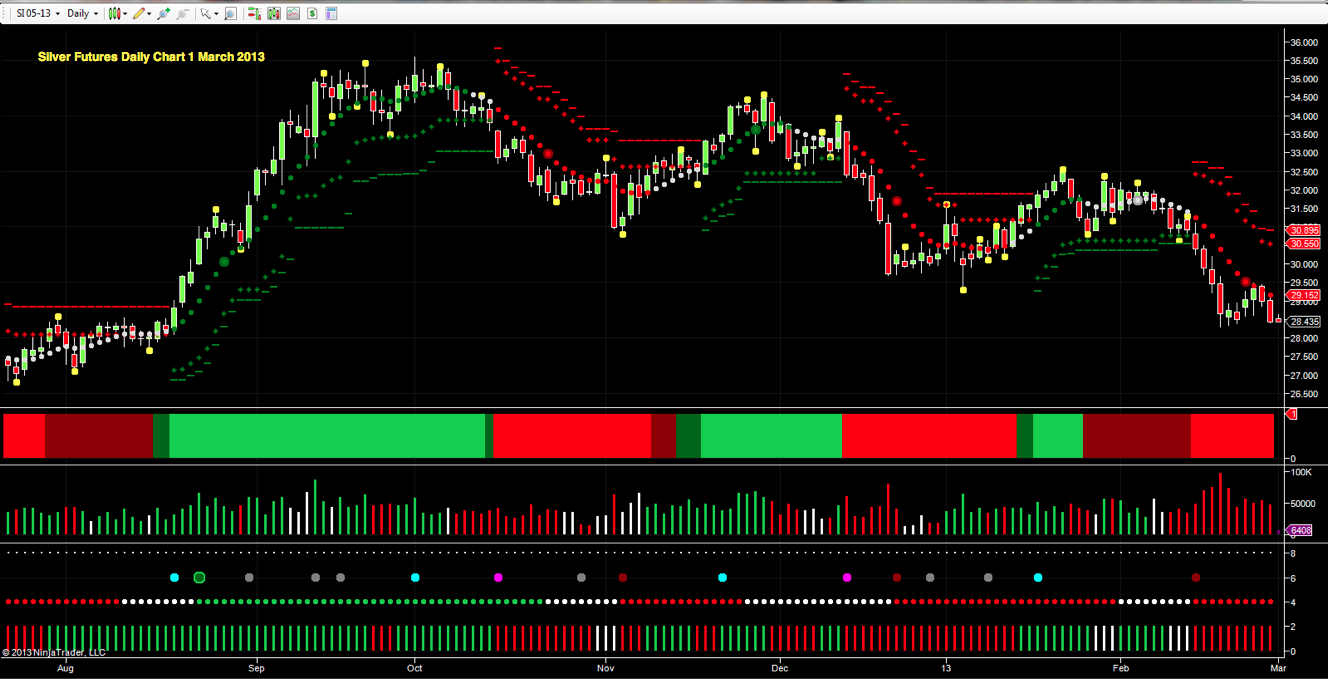 Silver futures have followed a similar pattern to gold this week having first attempted to recover some lost ground before ending yesterday's trading session with a firmly bearish tone.  For silver the technical support and resistance levels are clearly defined.  To the upside the May contract tested resistance in the 29.60 per ounce price point on two occasions and promptly failed to follow through on Tuesday and Wednesday.  This price level is also the underside of deep resistance of the price congestion first established in late December 2012 and which extended into early 2013.
The platform of support that has now been created in the 28.20 area also coincides with an extended platform created during August 2012 with the result that the metal is now trading in a well defined channel.
Yesterday's price action reinforced the bearish sentiment for metals and silver, in particular, which ended with a wide spread down candle, closing at 28.43 on the daily chart.
This negative picture is further reinforced with heavy selling on both the daily and three day chart which has been a feature since mid February.  Finally, both the trends and the heat map also remain firmly bearish rounding off the negative tone for silver at present.
Today's price action is key, and will be dominated by the fundamentals, namely a conclusion to the US sequestration issues making trading highly volatile and tricky and combined with  silver's current narrow trading range today's news from the US may trigger a breakout which will then clarify the trading picture for next week.
By Anna Coulling
Come and join my live training room and discover why in today's complex markets price behaviour holds the key to your trading success.