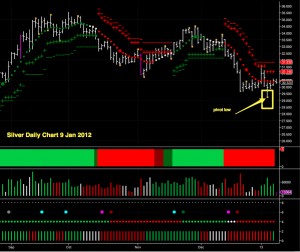 Whilst the chart pattern of the daily silver futures chart mirrors that of gold, there are some crucial differences which may perhaps give us some clues as to the future direction for both these metals.
Silver futures, like gold sold off sharply last Friday, ending the session with a deep hammer price bar on the day which tested the $29 per ounce level, before the metal recovered to close at $29.95.  Trading this week has so far been characterised an attempt to rally from this low but to date market momentum has been lacking.  However, the daily volumes for silver have been characterised by above average buying since last week. In addition, on the three day chart yesterday's price action saw buyers enter once again, the first occasion since mid December 2012.  Finally, Friday's price action on the daily chart now has an isolated pivot low posted which is likely to give silver a boost to the upside.
However, for this nascent bullish sentiment to develop further we need to see several factors combine:  first a breakout from the current sideways price congestion between $29.50 to the downside and $30.50 to the upside, and if this occurs it could provide the platform of support needed for a move higher.  Second,  the daily trend also needs to transition from red to green, along with the longer term 3 day trend.  However, it has to be said that despite these early signs of bullish intent silver still retains a heavily bearish tone and with potential strength now appearing on the dollar index chart this could in fact push the metal lower over the next few days.
By Anna Coulling