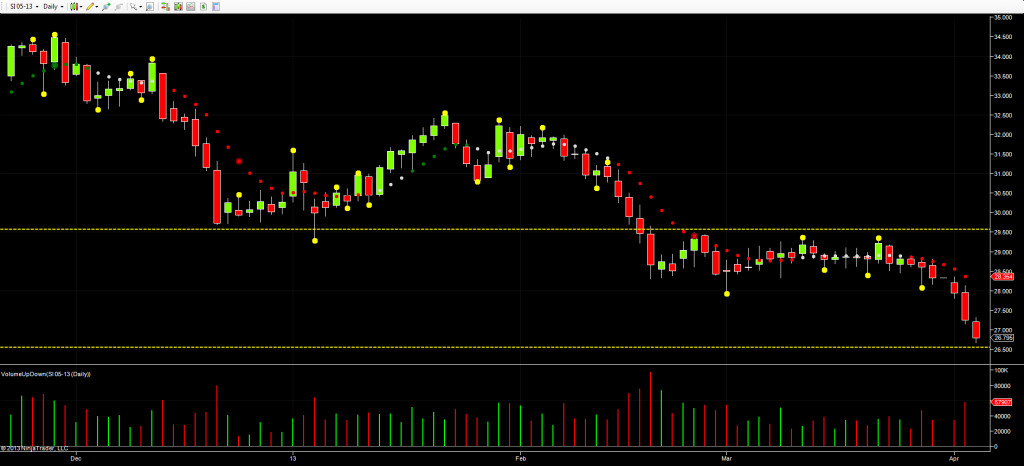 Well, we had to wait a long time for it to arrive, but the breakout in silver is finally here, and for those of you reading this post who are Wyckoff scholars, the law of cause and effect is now firmly in evidence. Wyckoff's second principle states that cause and effect go hand in hand. The greater the cause, in other words the time taken, then the greater the effect, the price move, and as I have said many, many times before, the longer that a market is in a consolidation phase, then the greater will be the impact when it does finally breakout.
Yesterday's price action on the daily chart, finally provided the trigger, breaking below the potential support region at $27.80 per ounce, and with this level now breached, today's price action has been testing the next level below, as detailed with the yellow dotted line in the $26.50 per ounce region. If the silver market moves through here, then we could see a significant move lower, as there is little in terms of price congestion below, until we meet the $20 per ounce level, back in 2010.
The region of price congestion above is now a significant barrier to any short-term recovery, and the only crumb of consolation for any bullish silver traders, is that the volumes over the last two days, have been lower than those over the period prior to the start of the congestion phase back in late February. Indeed the volume associated with yesterday's wide spread down bar was approximately half of that at the bottom of the waterfall. This in itself might suggest that the bearish sentiment for silver is perhaps not quite as strong as the price action would suggest.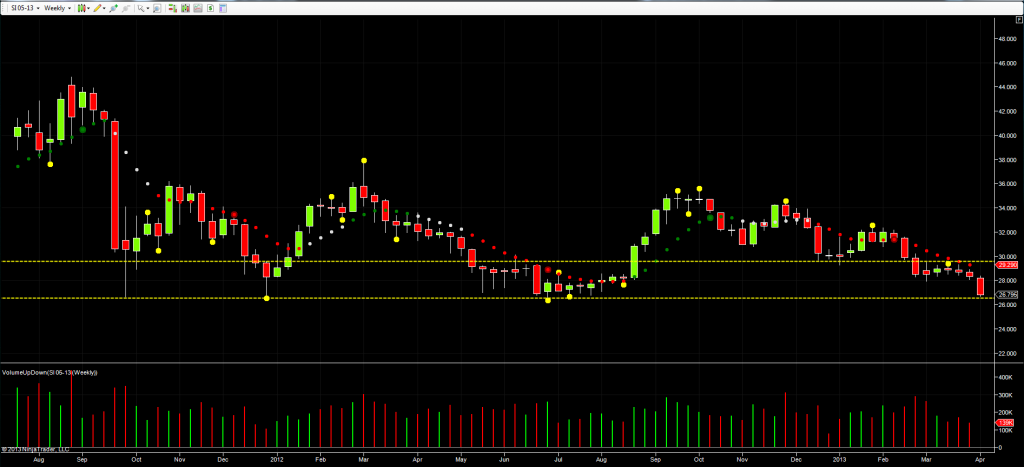 Nevertheless, a significant move over the last two days, and the $26.50 per ounce level is key. Moving to the weekly chart one can see the significance with the isolated pivots of 2012 and 2011, defining this floor very clearly. Any break below here is likely to see a longer term bearish trend for silver develop, and as I mentioned earlier, possibly test the $20 per ounce region in the medium term. Not good news for silver bulls.
By Anna Coulling