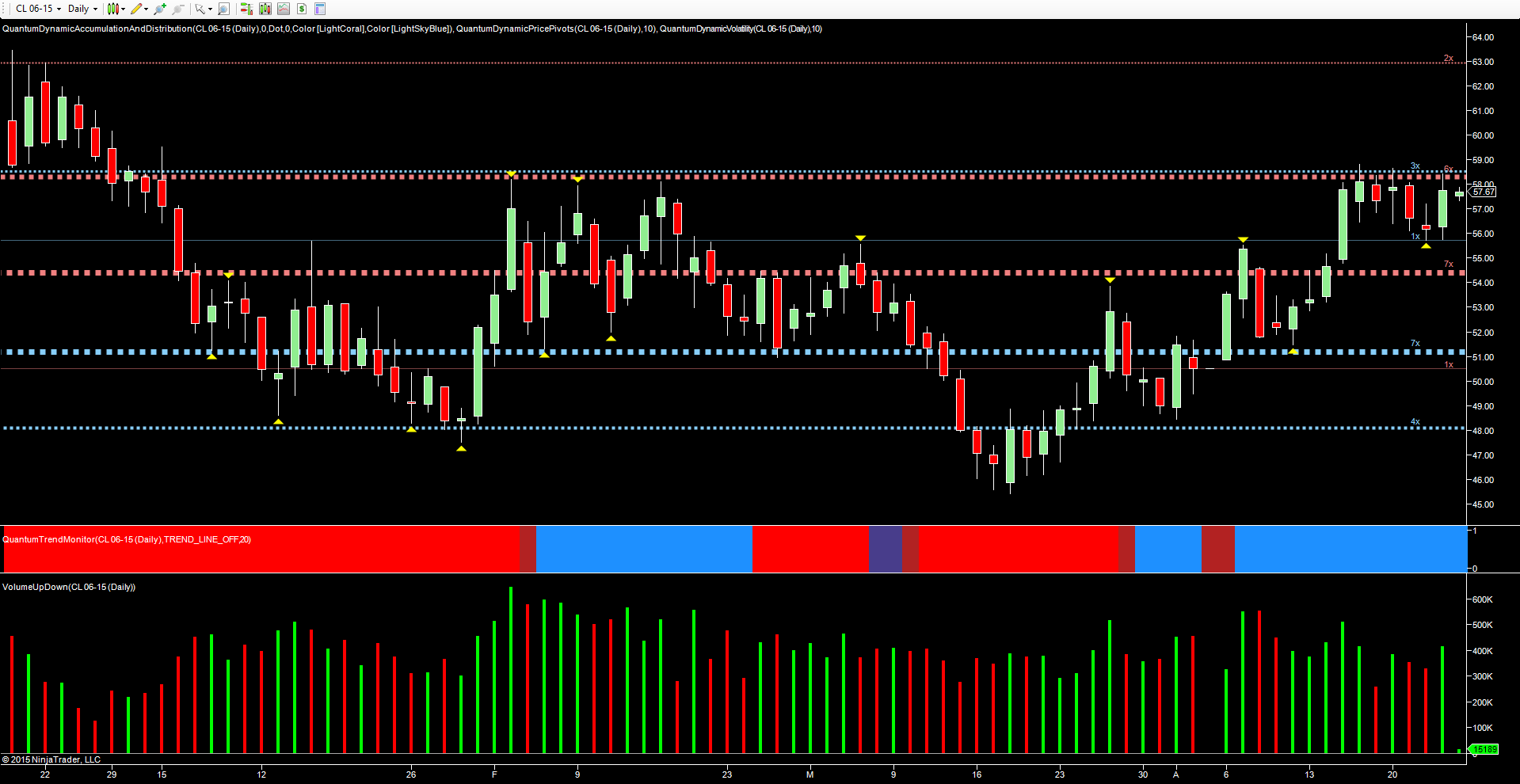 For long term oil traders it's been another week where patience will be rewarded in due course, as the commodity continues to test the $58.50 per barrel level on the daily chart, but which so far has continued to provide a cap to any future advance. This level was first tested on both Thursday and Friday last week, with yesterday's strong move higher on solid volumes continuing the theme, before finally closing off the highs of the day at $57.74 per barrel. Trading overnight has been muted with the oil confined to a tight range and sitting at $57.68 oper barrel at the time of writing. This is a key level, and one I have highlighted in previous analysis, and its significance cannot be underestimated given the fact this level has remained intact since early February. This level ultimately capped the rally at that point, with oil prices then retreating and moving to $44 per barrel in mid March.
Yesterday's price action also delivered the pivot low to Wednesday's candle, confirming the current bullish sentiment, and for any continuation of the upwards move, then the key level at $58.50 has to be breached. If it is, then we could see oil move to test the next logical level in the $63 per barrel area in the longer term, but should this level continue to hold and build further resistance, then the rally may run out of steam here, and move back to test the platform of support below in the $54.50 per barrel area.
Longer term, oversupply continues to remain the dominant theme for oil, with Wednesday's oil inventories showing yet another build in inventories and exceeding the forecast once again. Despite this, and helped by some weakness in the US dollar, oil continues to cling on to its recent gains. Increasingly OPEC is seen as losing control of the market and with the alternative energy producers increasing production and gaining market share, it is possible in the longer term that oil will join other commodities in becoming a market of price discovery, where supply and demand is driven by natural forces and not by politics.
By Anna Coulling
Charts are from NinjaTrader and the trading indicators from Quantum Trading.