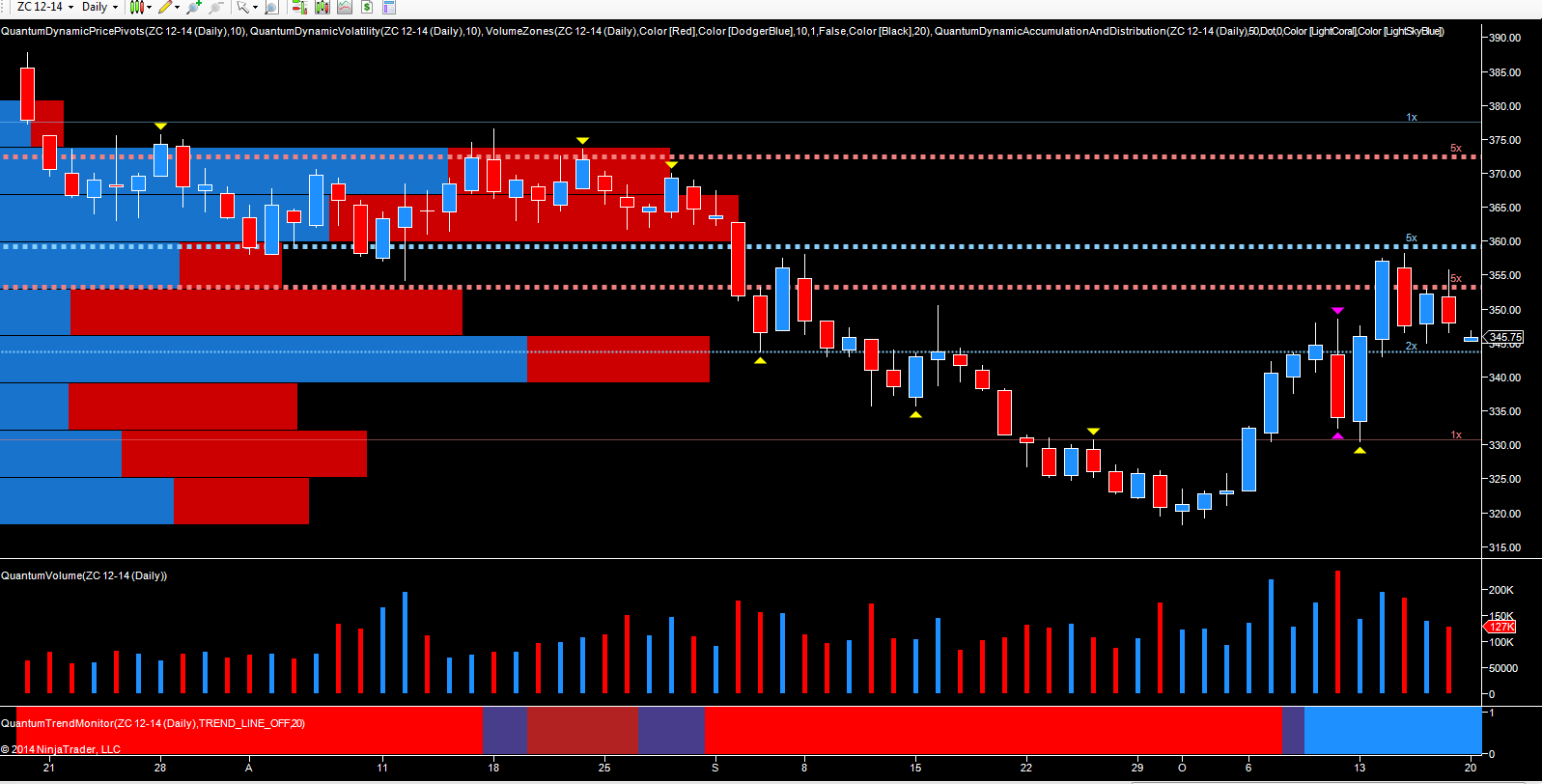 The recent rally for soft commodities appears to have stalled once again last week, as improving weather conditions across the US mid West allowed harvesting to get back on track with the forecast for a record crop now back in focus. The harvest for corn and wheat is now approximately 30% complete with soybean higher and approaching almost 50%, with the USDA reporting on the harvest later in today's trading session.
If we start the technical analysis with corn, this duly ran into resistance at the 360 per bushel level on the daily chart, a price that was tested twice last week, before closing at 348 per bushel on Friday. Overnight on the electronic market, corn prices have opened gapped down to currently trade at 345.75 per bushel reflecting the return of bearish sentiment once again, as dry weather returns, and should these conditions continue, then we may see prices decline further this week and back to test the secondary support level at 330 per bushel in due course. The resistance region now overhead is both deep and sustained and extends from 360 per bushel up to 375 per bushel, and for any longer term breach of this region, any move higher will need to be accompanied by sustained and rising volume, something which is lacking at present in any up moves.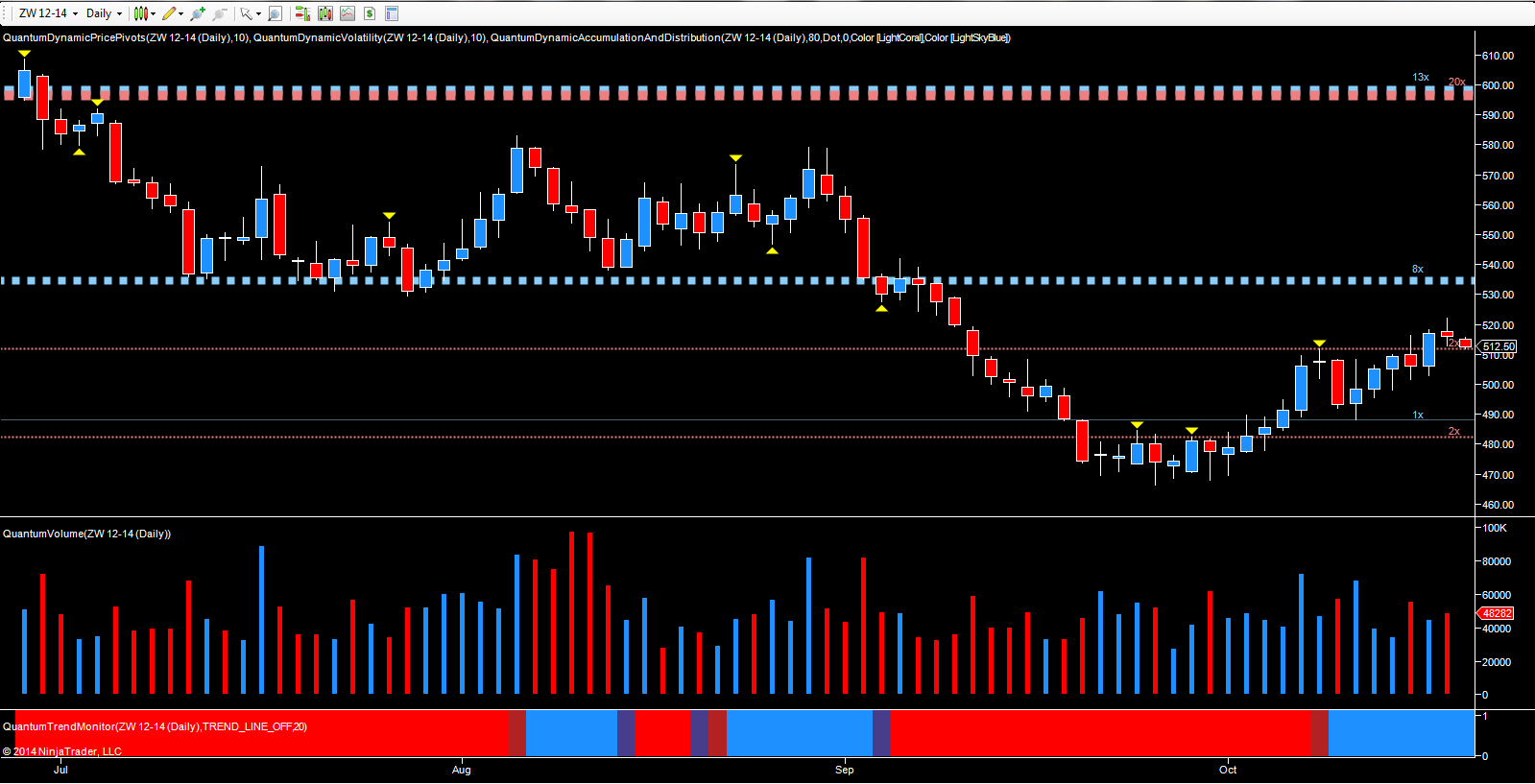 For wheat, the picture is slightly less bearish, with last week's price action remaining bullish as the market broke above minor resistance in the 511 per bushel region, before ending the week with a doji candle on Friday as the prices paused in the 520 per bushel area. Whilst wheat prices gained last week, the associated volumes were average, suggesting weakness in the move higher, a view reflected overnight with the electronic market trading lower at 513 per bushel after a gapped down open, as with corn. In the longer term the deep resistance now overhead in the 535 per bushel region is likely to be an obstinate barrier to any further progress higher, and defined on the daily chart with the blue dotted line.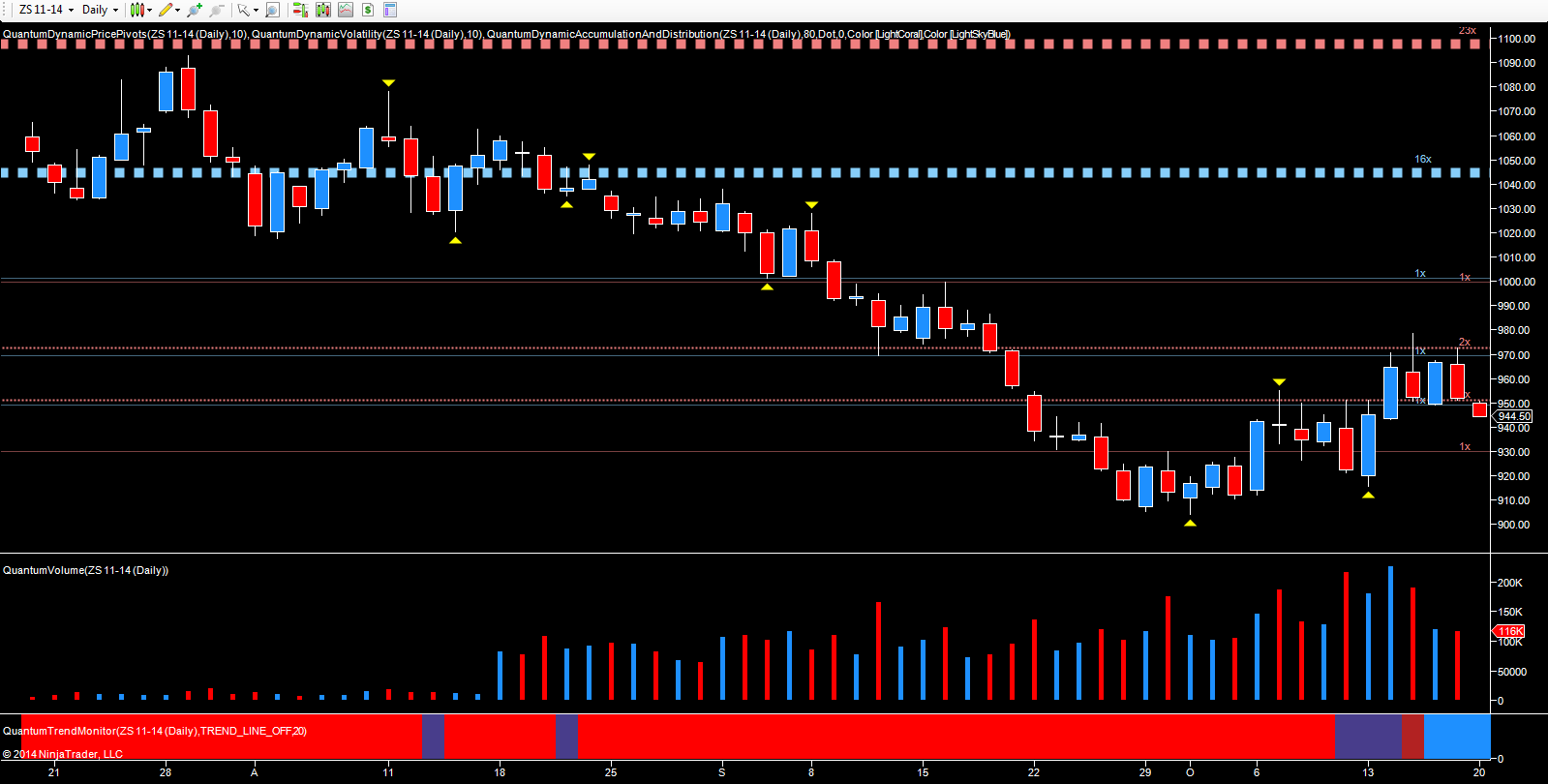 Finally to the daily chart for soybean, which is identical to that for corn. with the rally at the start of last week then running out of steam and trading in a narrow range. For soybean it was the 970 per bushel that was tested repeatedly last week, with Wednesday's candle signaling weakness with the deep upper wick and high volume, followed by Thursday's up candle on low volume confirming this view, with the market closing on Friday at 951.75. Overnight the electronic market has opened lower, as with the other grains, to trade 945.75 per bushel at the time of writing. If the weather continues to remain favorable, and crop yields hold on target, soybean prices may continue lower this week and back to test the platform of support now in place at the 928 per bushel region and below.
By Anna Coulling