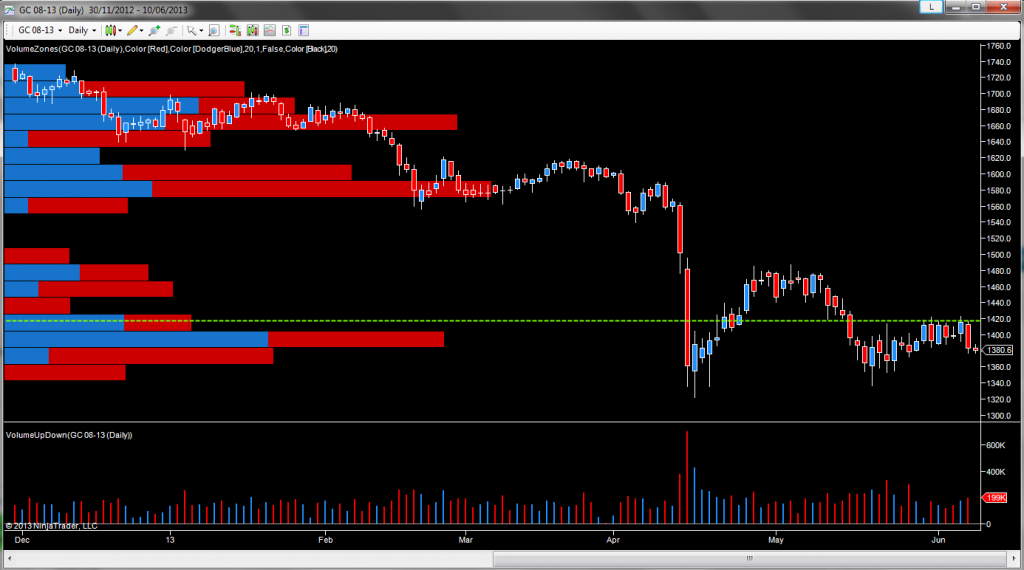 Another bad day at the office for gold bugs on Friday, as August gold futures contract ended the week with a wide spread down candle, closing at $1383 per ounce, and down almost $30 per ounce on the day. This bearish tone simply confirms the weak technical picture for gold, which has struggled to maintain any bullish momentum since the sharp falls in April earlier this year. Despite rallying towards the $1500 per ounce region in May, this move duly ran out of steam, which was no great surprise given the associated volume on the trend higher, which was falling, a sure sign of weakness. The secondary rally in late May and into early June was equally weak, and once again the lack of buyers was evident in the daily volume bars, with last week's price action creating a well developed area of resistance in the $1420 per ounce region, which was duly validated on Friday and as shown with the green dotted line.
Moving to the volume at price histogram on the left of the chart, the picture here for gold bugs looks equally bleak, with Friday's price action breaking below the potential support area between $1382 per ounce to $1400 per ounce. With this now breached, what was potential support has now become resistance, and in overnight trading on Globex, the gold futures contract is already pushing lower to trade ate $1379 per ounce at the time of writing.
With the gold market now looking set to roll over and move lower, the next technical level on the daily gold chart is in the $1340 per ounce area. However, as I have explained many times before, for any longer term recovery in the price of gold, we need to see a buying climax, which has yet to appear on our volume profile. So for the time being, not good news for gold bugs I'm afraid, and indeed any break beyond this area, could see gold move towards the $1300 per ounce area in the longer term.
By Anna Coulling