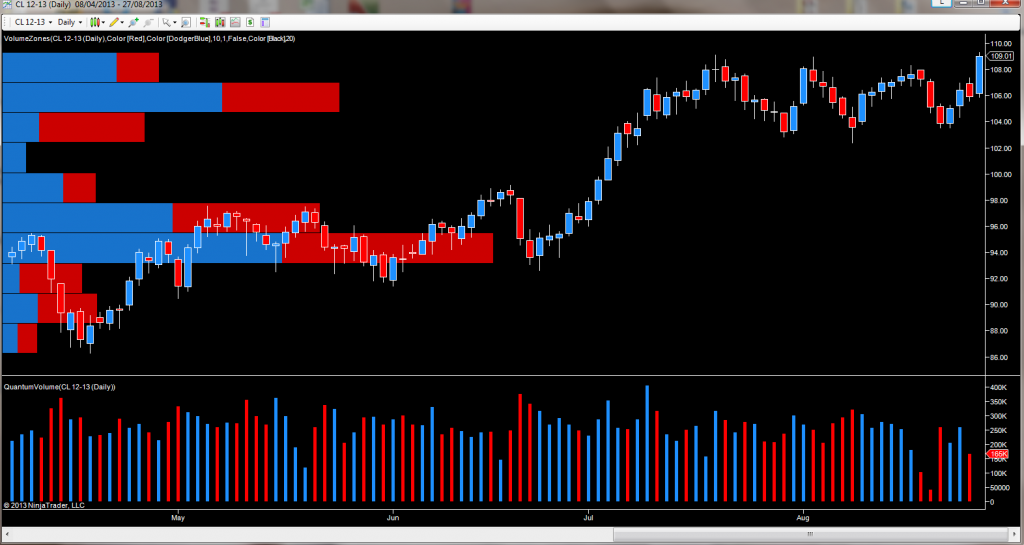 Whilst stock traders would have done well, to sell in May and go away, oil traders may also now be wishing they had followed this old maxim, with the commodity tempting and teasing oil traders, as it continues to trade in a narrow range which has confined oil prices to a $5 per barrel spread for much of the summer. However, following today's price action, the next few weeks could be extremely interesting and profitable, with patience rewarded.
As I have mentioned in several previous posts on oil, the key technical level is now extremely well defined in the $109 per barrel area. To date, this has been tested on three separate occasions, and this evening's price action is testing it once more, with today's wide spread up candle. This price level is now hugely significant. If the price does break and hold above this level in the next few days, then this a clear signal of further bullish momentum to come, provided any break is also supported by strong and rising volume. Volume as always holds the key, and it was self evident back in mid August, that the rally there was lacking momentum, with a rising market and falling volume, a fact I pointed out at the time. Each pullback has found support in the $103 per barrel region, and as with the resistance area, so with support, which is extremely well defined. The stage is now set for the final battle. Provided we see buyers return in strength, with the big operators joining the move, then $110 per barrel should set the tone for further bullish momentum in the short to medium term. Any move through here will also clear the volume at price congestion zones, now firmly in place in the $105 – $109 per barrel area.
Tomorrow of course sees the weekly Cushing oil inventories, with a forecast build of 0.9m bbls against last weeks draw of -1.4m bbls. In the last few months, inventory forecasts have been unreliable to say the least, but if a bigger than expected build is released, this could dent further bullish momentum tomorrow. Oil inventories notwithstanding, and putting political instability to one side, the commodity is now delicately poised as trading gets back into full swing. So sit up, take notice and get ready for an interesting ride!
By Anna Coulling