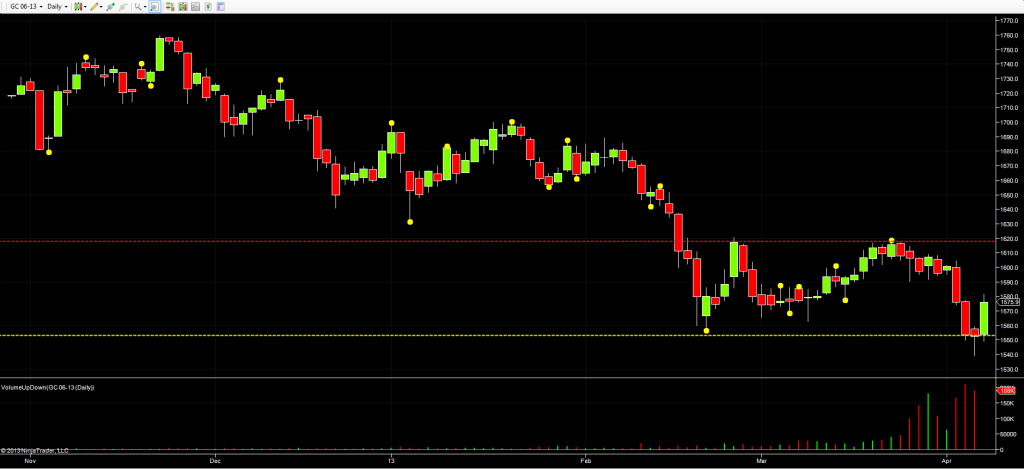 June gold futures staged a modest recovery on Friday, ending the day with a wide spread up candle and closing the week at $1575.90 per ounce, a gain of over $20 per ounce during the session. The bounce higher on Friday was much as expected following the price action and associated volume on Thursday. Indeed as I mentioned in a recent post for gold, for any recovery in the precious metal, we would first need to see some evidence of stopping volume, buyers in other words, coming into the market first, before any prospect of a longer term reversal in trend.
This duly arrived in classic style on Thursday, with a perfect hammer candle coupled with ultra high volume, one of the classic combinations in volume price analysis, a clear signal of a short term reversal higher. For intra day VPA scalping traders, Friday was a simple trading day, coupled with the fact that the hammer was perched perfectly on our yellow support line!
The question now of course is whether this is simply a short term response to the intra day fundamentals, or a longer term change in trend, and as always the message here is patience. As the saying goes, one swallow doesn't make a summer, and for gold bugs, that's certainly the case here. Markets rarely turn on a sixpence, and just like the proverbial oil tanker, to reverse or change direction takes time, as the market has it's own momentum. The key now will be whether we see the yellow dotted support line tested again.
If so, and it holds, and we see further evidence of buying in the volume bars and associated price action, then this could provide the platform that the gold market needs. However, if it is breached, then we are likely to see gold continue lower in the longer term and down towards the $1500 per ounce region in due course. Remember, that for any reversal higher, all the selling pressure has to be absorbed, and this could take several days, or indeed weeks at this level, before any longer term reversal in trend.
So for gold bugs, and encouraging end to the week, and for gold scalpers, a profitable day. For longer term trend traders, one high volume bar, is not enough to signal a change in trend, just yet.
By Anna Coulling