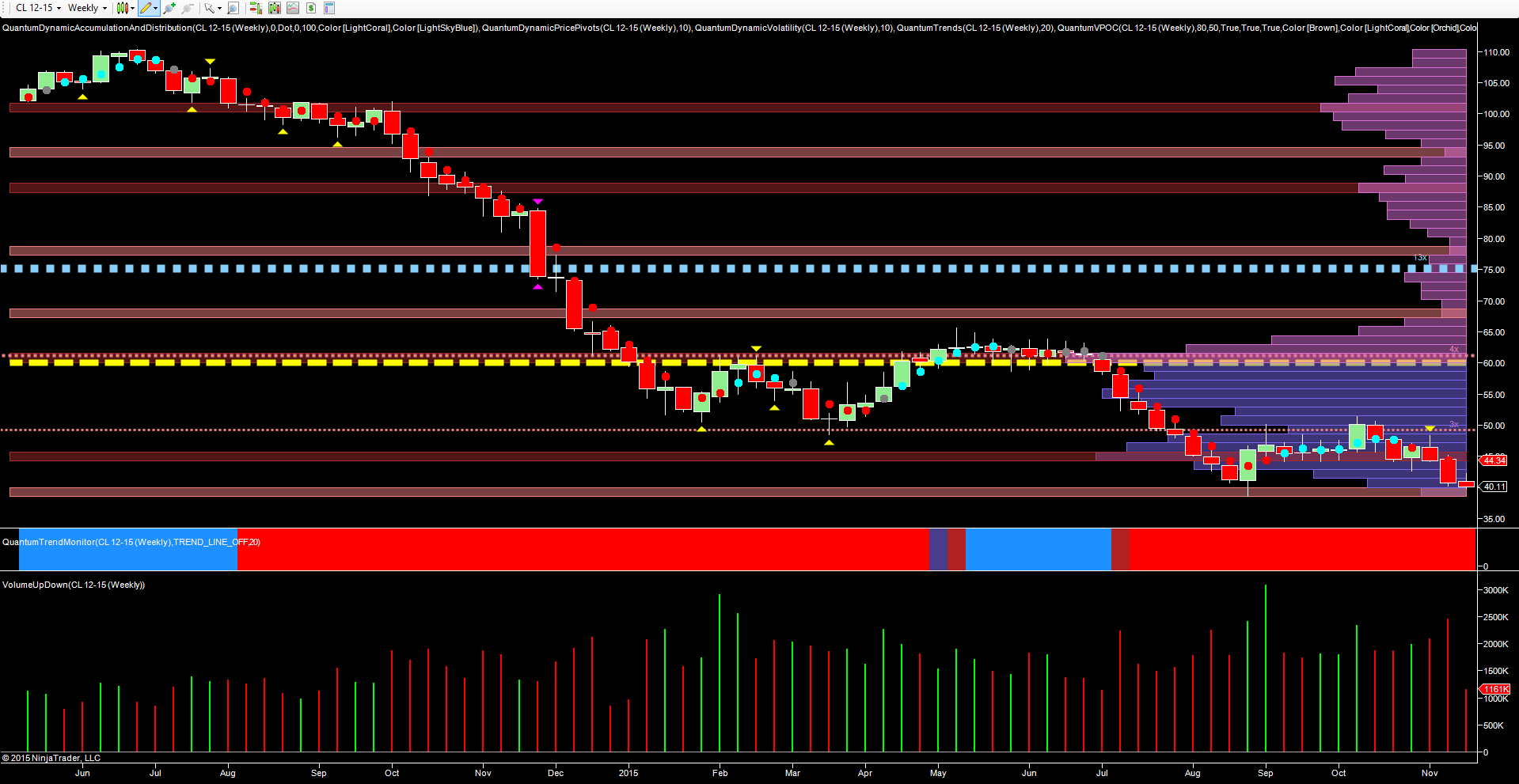 One of the many factors used to decide whether a central bank should or should not raise interest rates is inflation, of which energy is a main contributor, and given the extended bearish trend for oil prices at present this aspect of the decision making process is likely to remain sharply in focus. This is something which may ultimately determine whether the FED does indeed raise interest rates in December, and which will also affect global inflation and other central banks.
Setting aside the many and varied fundamental aspects of the collapse in oil prices, not least OPEC's decision, or at least Saudi Arabia's decision to engage in a full scale price war, the technical picture tells its own story. And if we start with the weekly chart for the WTI December contract it is clear that we are once again approaching a pivotal levels for crude in this time frame. The first of these was back in early summer when oil prices rallied from the $50 per barrel level, before consolidating in the $62 per barrel region, and duly establishing the volume point of control on this chart, and which has remained in this region ever since.
The next key level is now the one being tested in today's early trading, and which provided the bounce high in late August, with oil prices moving sharply higher from the $39.20 per barrel area towards $50 following the dramatic correction in equity markets.
The first week in September revealed the weakness of this move as ultra high volume coupled with price action failed to push the price higher. This was duly followed by an extended period of consolidation with the resistance level denoted by the pink dotted line, just below the $50 per barrel region.
Since then prices have been moving firmly lower with last week's wide spread down candle accompanied with rising volume on the prior week, thereby validating the pick up in bearish momentum with a pivot high sealing this sentiment.
Moving forward the floor of potential support for oil is now set at $38.56 which was the low of late August, and should this be breached (as expected) then this will open the way for a further sustained move lower in the longer term with the potential for oil prices to revisit the lows last seen in 2009.
By Anna Coulling
Indicators by NinjaTrader and indicators from Quantum Trading