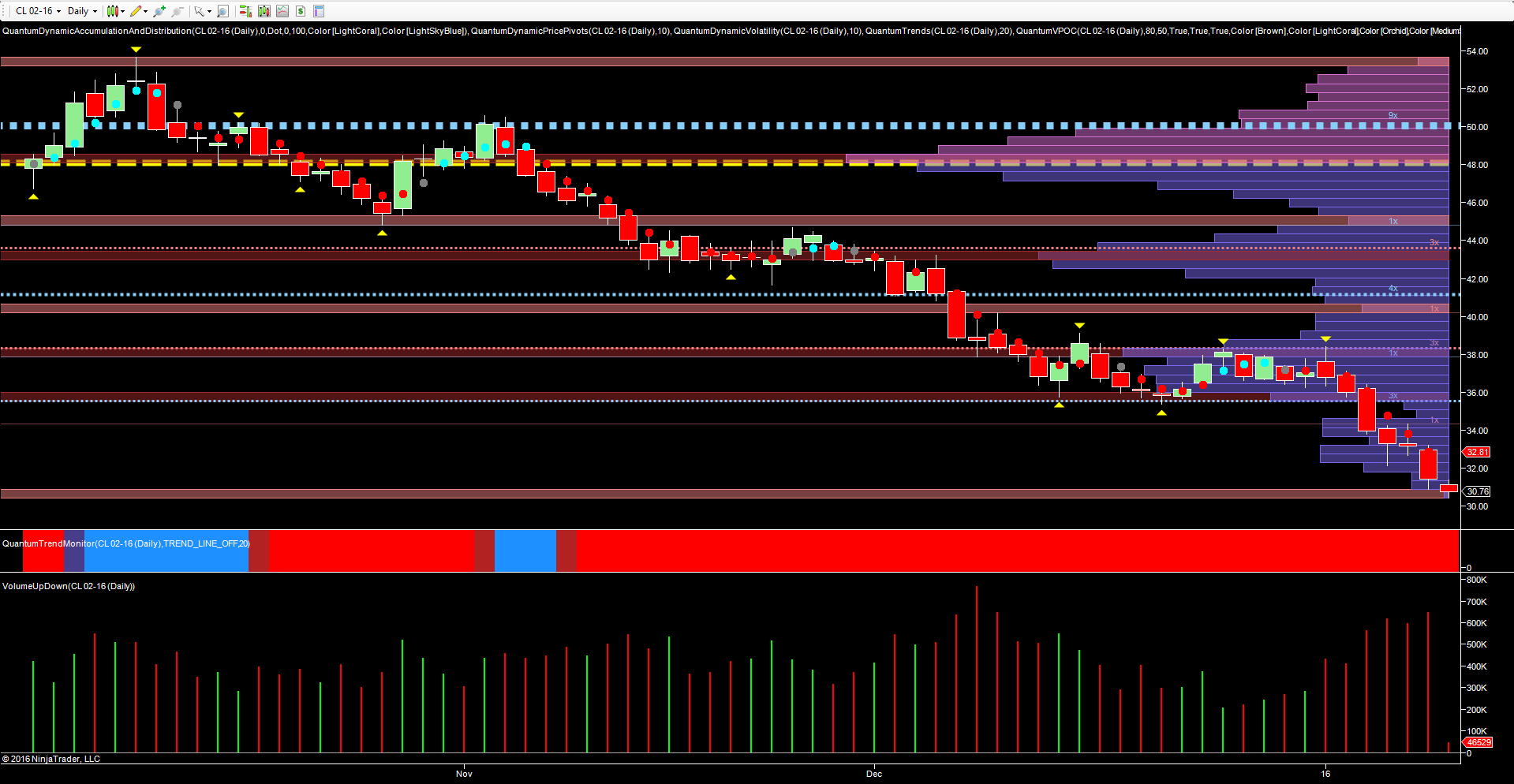 When considering such as bearish chart as for crude oil, it's interesting to play a mind game and consider it as perhaps a stock chart – an Enron or a Worldcom, and the prospect of oil going to zero. Free oil – an interesting thought and one that will never happen, but nevertheless when price action is so heavily weighted in one direction it's interesting to consider just how much further it can fall, before we see a bottom start to build. And to answer my own question – the answer is not yet, and indeed the price action and associated volume profile for the start of the year is classic volume price analysis – almost text book – with a falling market on strongly rising volume, with no evidence in this timeframe of any stopping volume or buying. It's all one way traffic at present.
In my post of last week I suggested that the 2009 low of $32.38 per barrel was the next target, and since then this was duly taken out yesterday's with the oil trading session closing at $31.41 per barrel. Overnight oil prices have moved lower still to trade at $30.74 per barrel at the time of writing. Provided this break holds there is little ahead in the way of meaningful support, and from a purely technical perspective the target for rebasing and rebuilding now appears to be in the $24.54 per barrel, where a very well developed platform awaits, and takes us back to oil prices not seen since 2002.
From a fundamental standpoint of course, it is the confluence of OPEC politics, a strong US dollar, a glut of supply, and the lifting of Iranian embargoes that are all combining to pressure black gold ever lower. The bottom will of course come, not at zero, but in the mid $20 per barrel which is the point at which we are likely to witness the start of an extended congestion phase, as buying finally arrives, the buying climax begins, and oil prices then begin the inevitable cycle of rising Lazarus like from the dead to climb ever higher and perhaps even back to $147 per barrel once again. All cycles ultimately repeat, and the only factor is time and not if, but when.
By Anna Coulling
Charts by NinjaTrader and indicators by Quantum Trading