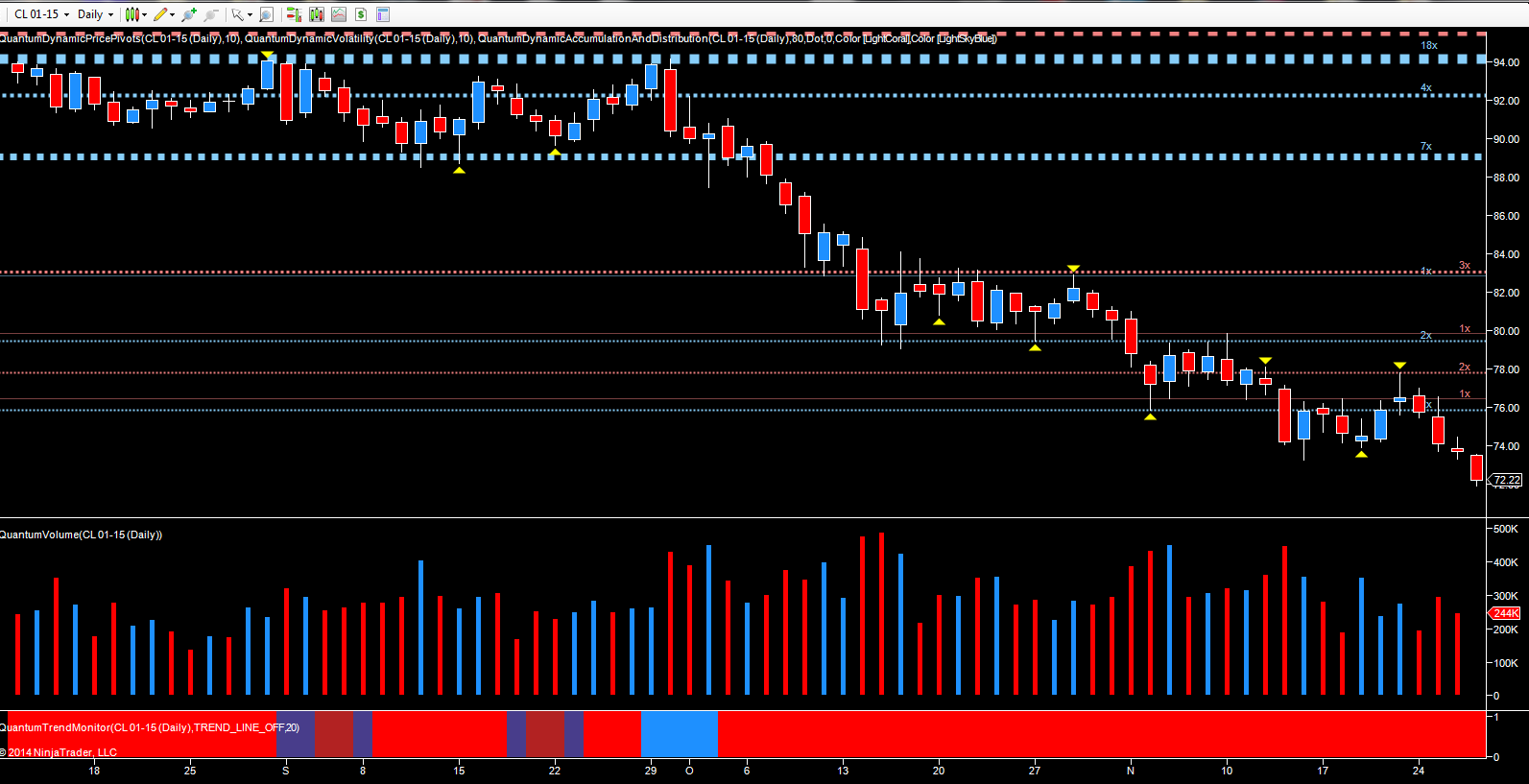 As we come to the end of a holiday shortened week with Thanksgiving celebrations in the US, crude oil has continued its relentless bearish trend lower in overnight trading, with the January futures contract moving lower once again, and breaking through the floor of potential support in the $73.50 per barrel area, a level which to date had held firm. In early trading the futures contract is currently trading at $72.29 per barrel, and should this level hold, then we can expect to see a deeper and more sustained move lower once again, as the bearish tone picks up momentum once again.
The negative picture for oil was confirmed towards the end of last week, as the rally higher on Wednesday and Thursday saw volumes falling, with Friday delivering a strong signal of weakness, with the narrow spread candle and deep upper wick testing the resistance area in the $78 per barrel region once more, and on higher volume. This weakness was duly confirmed on Monday with a move lower, and a pivot high then posted on Friday's candle, adding further validation to this weak picture. Tuesday's price action on high volume then confirmed this further, as selling pressure increased. Wednesday's trading session ended quietly and even a build in oil inventories which exceeded the forecast by 1.5m bbls failed to provide any support to the beleaguered commodity.
Today of course sees the latest round of OPEC meetings, and the steep fall in oil prices this morning reflects the view that members are unlikely to agree to any output cuts just yet. The over arching statement from the Saudia Arabia's oil minister would seem to sum up the current situation, having indicated that OPEC members will take a 'unified approach', perhaps suggesting some disagreement internally as to whether to cut now or later. What is perhaps ironic is that oil speculators are once again being blamed for the move, so whether oil rises or falls, it seems no-one is happy, other than the traders making money from the current solid trend.
As always, it will be volume price analysis that signals a change in sentiment, both from OPEC and the market and once we see a buying climax in this timeframe, the current outlook remains heavily bearish, unless OPEC issue any surprises in any statement later today. In the meantime, a move below $70 per barrel for WTI now looks increasingly likely with a test of the floor of support in the $66 per barrel area now possible.
By Anna Coulling