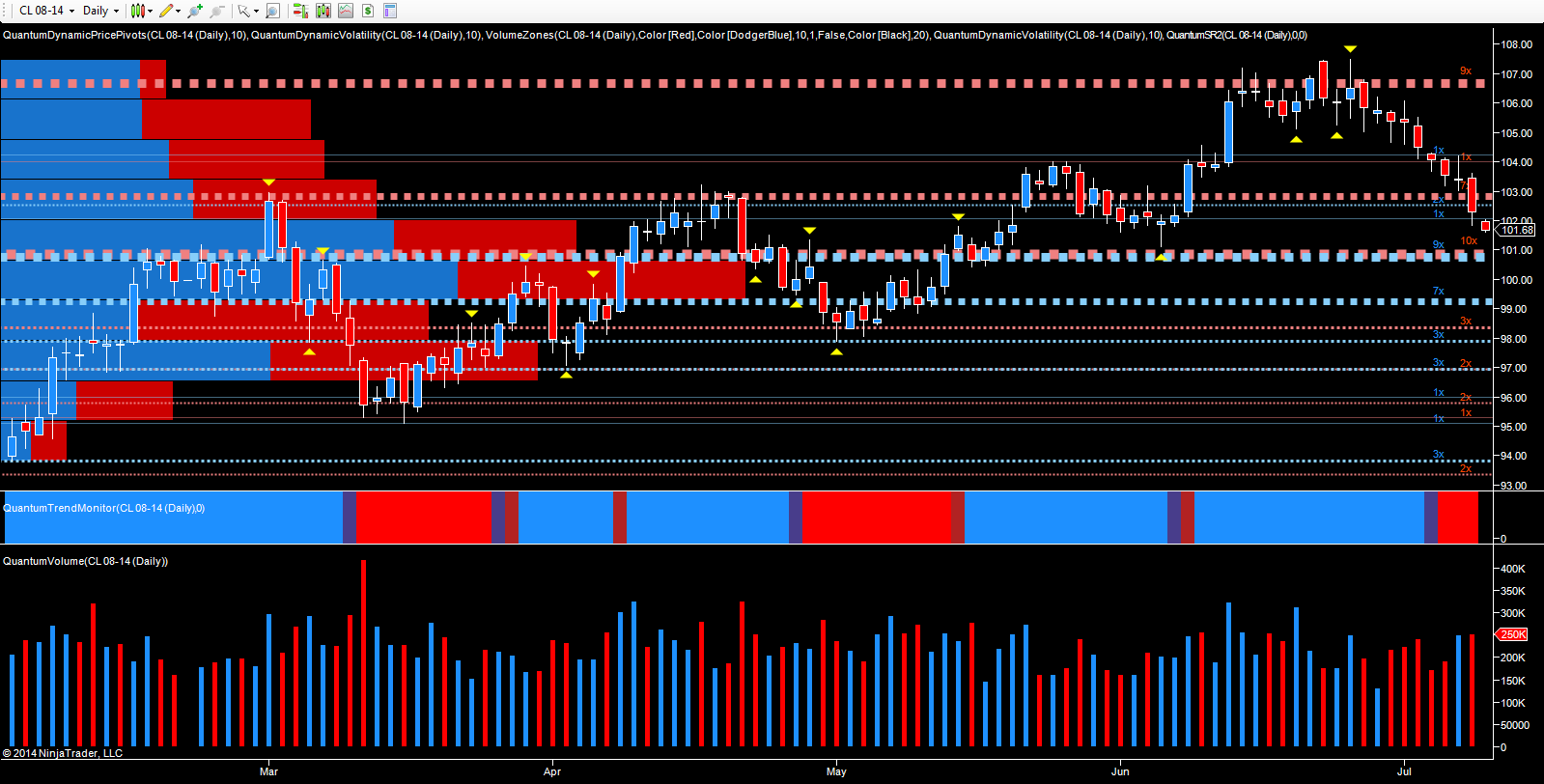 Oil prices continued to move firmly lower once again in yesterday's oil trading session with the WTI futures contract for August closing at $102.29 per barrel, and ending with a wide spread down candle as the commodity lost over a dollar per barrel on the day. More importantly from a technical perspective, oil has now breached the key support region in the $102.90 per barrel level, as shown on the support and resistance indicator with the dotted red line at this level.
The bearish tone for oil was first set with the move below the $104.50 region, following the extended congestion phase of late June, and as I mentioned in a previous post for oil, this was the trigger for further downwards momentum, which has duly arrived. The question now is whether the next level of support in the $101 per barrel region will hold. This is a level which is even deeper than that just breached, and is clearly defined on the volume at price histogram to the left of the chart. Should this fail to halt the bearish move, then we could see oil move back below the $100 per barrel level once again, and down towards $98.50 in the short to medium term. All this of course is against the context of global tensions, and any escalation would trigger a knee-jerk response in the price of oil.
From a volume perspective, the move lower yesterday was accompanied with high volume. validating the price action, and confirming the selling pressure which is now self evident. Yesterday's oil inventories, which came in with a larger draw than expected, failed to halt the slide lower, exceeding the forecast of -1.7bbls by -0.7bbls at -2.4bbls. In early trading this morning on Globex, the contract is once again firmly lower trading at $101.66 per barrel at the time of writing. The overnight news from China will not have helped with a worse than expected Trade Balance figure, suggesting a slow down in the world's second largest economy.
By Anna Coulling