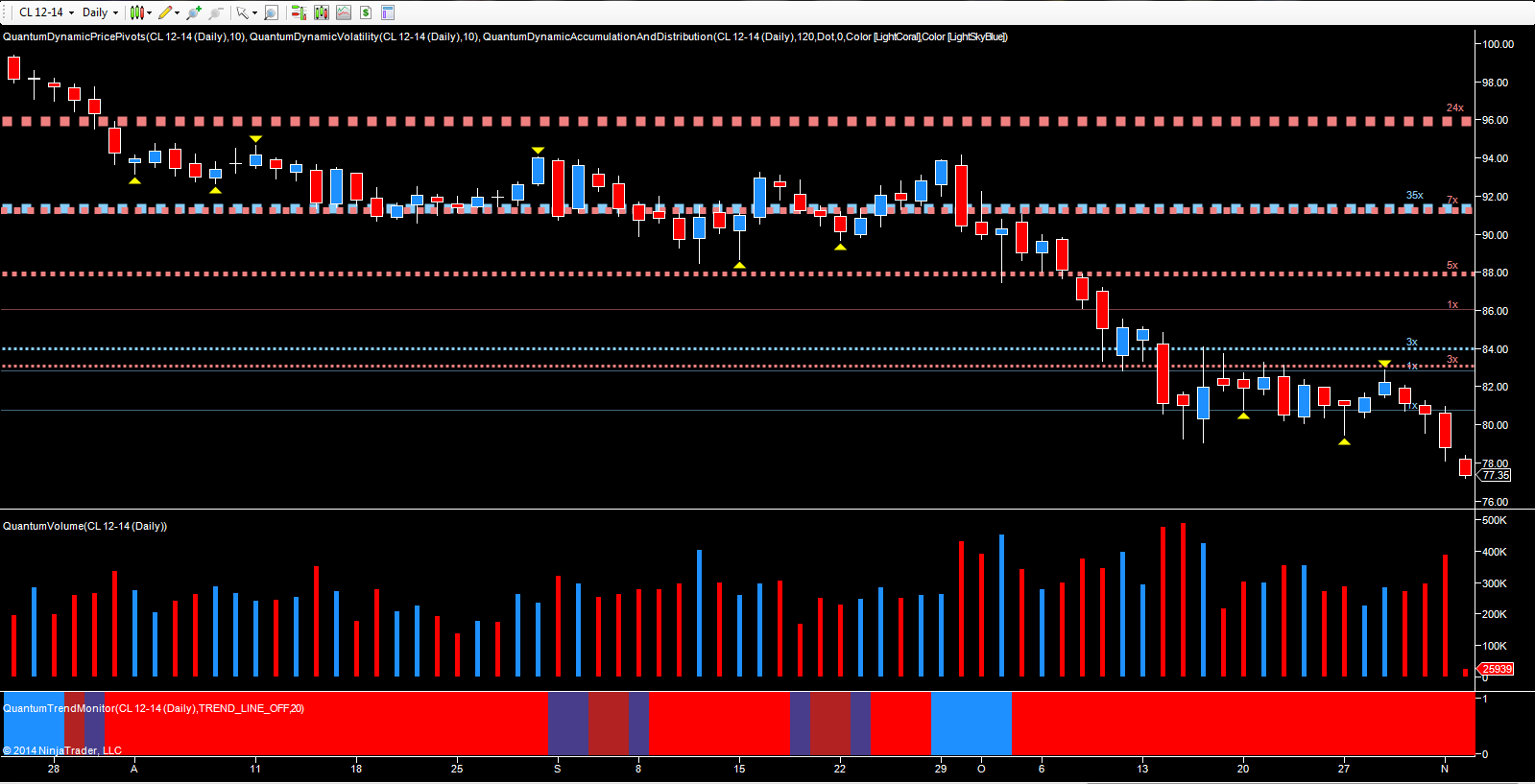 For longer term oil traders it's been a question of being patient and waiting, as the commodity continued to consolidate in a narrow trading range, following the extended move lower of early October, which saw the price of oil break through the floor of potential resistance in the $88 per barrel region, before moving down to consolidate in the $79 to $83 per barrel region, where it has remained since. Yesterday's price action was seminal, with the trading session closing as a wide spread down candle on high volume, and more importantly, also breaking below the floor of support in the $79 per barrel area. This is a level which had been tested on several occasions throughout the latter part of October, and held firm on each test, until yesterday. This was the key level I highlighted in a post on oil last week and suggested that any move through here would then open the way for a deeper move.
In addition, over the last few days the slide lower for oil has been accompanied by rising volume, sending a clear signal of selling pressure, and confirming a continuation of the heavily bearish sentiment for the commodity. This tone has continued in overnight trading with oil moving deeper still, gapping down through the $78 per barrel area to trade at $77.39 per barrel at the time of writing.
Whilst the longer term technical picture for oil is heavily bearish, continued strength in the US dollar, over supply in global markets, and weak economic output around the world, are all playing their part in the supply/demand equation. OPEC meanwhile continues to remain relaxed about the current decline, and until they take action we can expect to see oil prices decline further and down to test the $74.54 per barrel low of June 2012.
By Anna Coulling