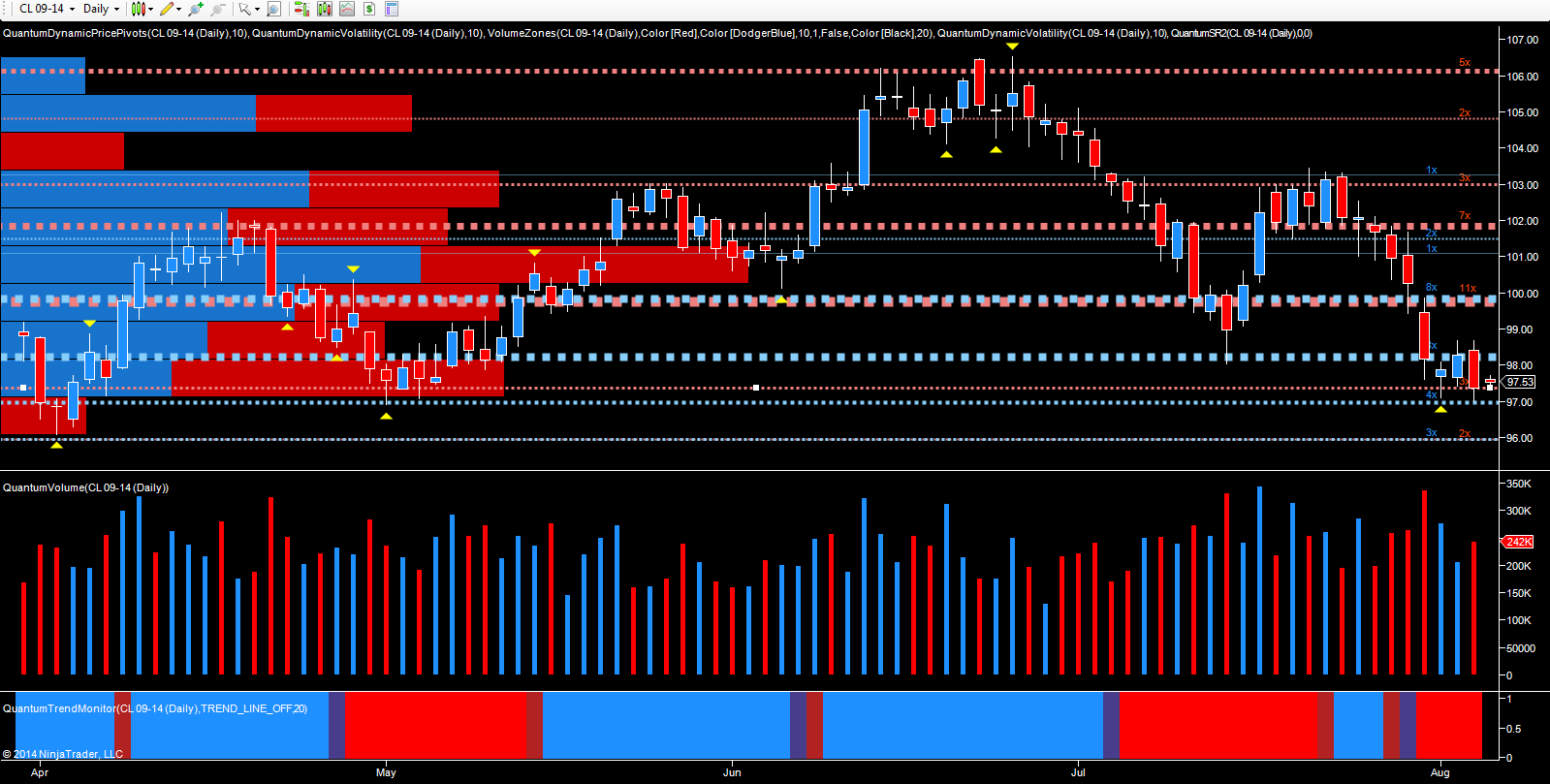 Oil prices continue to remain heavily bearish on the daily chart following the initial failure at the $106 per barrel area in early July which was the tipping point for the commodity, with the final phase of this particular price action, clearly marked with a shooting star candle and pivot high, coupled with high volume, and confirming the weakness at this level. The fundamentals also played a part here, with potential fears over supply issues waning, coupled with the view that global events were overplayed. Since then, oil futures have declined steadily, first to test the support level in the $98.50 per barrel area in mid July, which duly held with a bounce higher, but which has since been breached in trading last week. The move through the deep platform of support in the $100 per barrel area was the initial trigger, with Wednesday's wide spread down candle and Thursday's narrow spread price action from last week, finally breaking through and driven lower once again in yesterday's oil trading session, closing at $97.38 per barrel on the September contract.
This morning has seen oil prices drift marginally higher to trade at $97.55 at the time of writing, with the next minor level of support in the $97 per barrel area holding firm for the time being. Selling volumes yesterday were modest compared with the equivalent price action of last week, with the price waterfall of last week a classic example of rising volumes in a down trend confirming the strength of the move. It is also interesting to note the weak response on Thursday and Friday, with the two day rally associated with falling volumes and suggesting this was simply a minor reversal and not a change in trend, which has since been confirmed.
Today's oil inventories will once again take centre stage for oil with the recent trend looking set to continue with a draw in inventories forecast at -1.1m bbls against a previous of -3.7m bbls. Indeed the last five weeks have seen a sustained draw in inventories all of which have failed to halt the current move lower. In the short term, if the minor support levels at $97 and $95.80 fail to hold, then expect to see further downside momentum for oil in the short to medium term.
By Anna Coulling