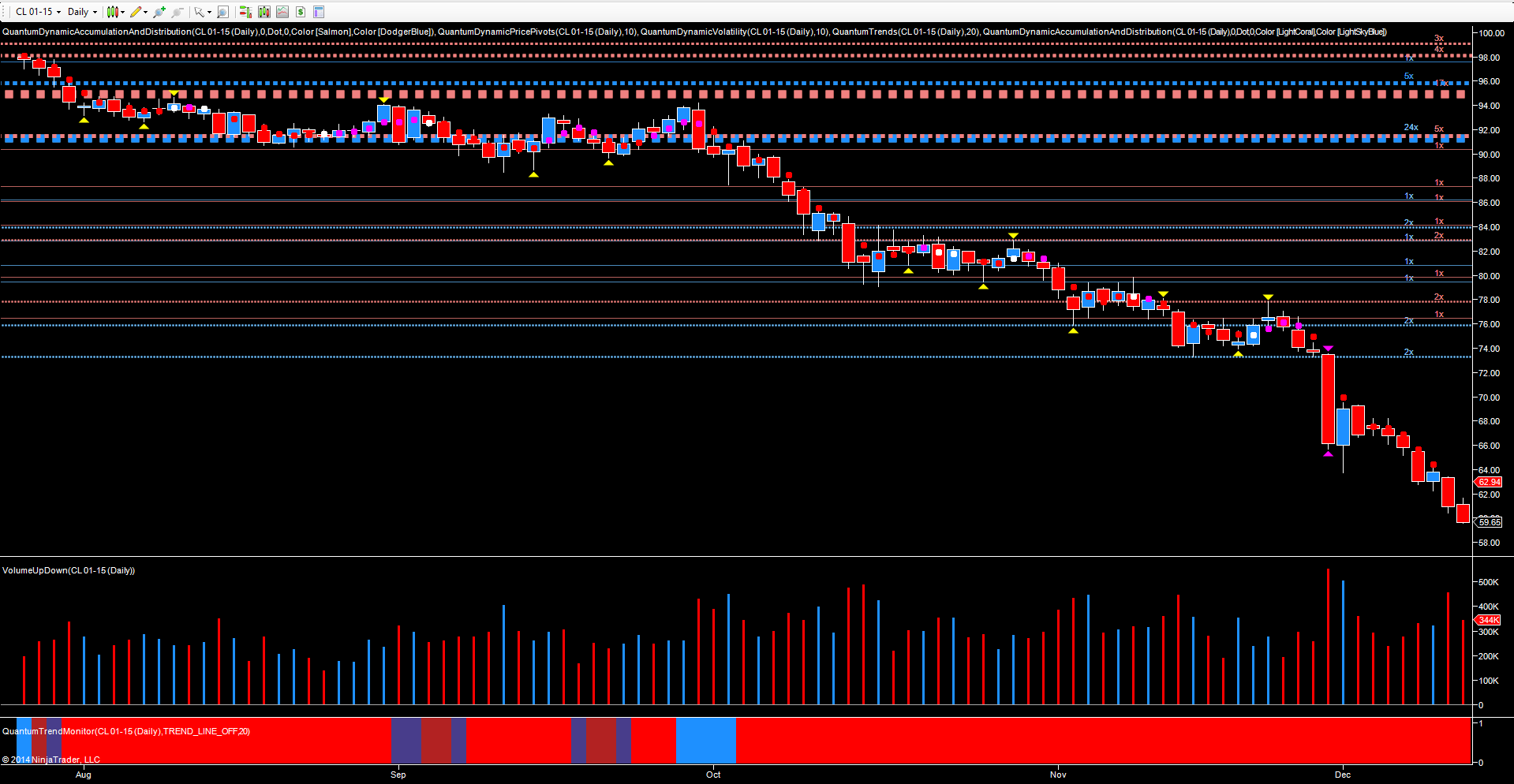 If oil were one of the protagonists in a boxing match, the fight would have been stopped long ago with crude oil battered bruised and bleeding in a sea of red! And yet the referee on this occasion is happy to see the bloodbath continue, with oil breaking below the psychological $60 per barrel level in the trading session today, and currently moving to $59.74 per barrel at the time of writing. Whilst these are halcyon times for oil traders and speculators, the 'hidden dangers' are perhaps twofold. The first is the nagging questions many traders are asking themselves as each day unfolds, such as 'how low can oil go' and 'surely it can't fall any further'. These are the questions which begin to cast doubt in a traders mind, and the prophetic words of Jesse Livermore echo down the years when he said,
'Remember that stocks are never too high for you to begin buying or too low to begin selling'
Well the same could be said for oil at present. The price of oil is never too low to begin selling, and the only hindrance to trading this market is in trading with an opinion – an opinion which says this price is too low, or cannot fall any further. This at present is the bigger danger to trading oil – the traders own mind and the preconceived idea of whether a price is too high, or in this case too low. Much has been written about the cost of extraction and production and the extent to which OPEC are now overtly engaging in a price war with the alternative producers. This is undoubtedly true, and until there is a signal on the chart in the form of stopping volume, and/0r a subsequent buying climax, then oil prices are set to fall further still. Yesterday's price action was confirmation enough with a wide spread down candle associated on high volume, confirming the move lower, with the weekly oil inventories simply adding to the weight of money now selling oil. The forecast was for a draw of -2.6m bbls, but was eclipsed with a build of 1.5m bbls.
In a post last week I suggested that oil could possibly move below $50 per barrel and even as low as $43 per barrel next year, and with very little in the way of technical resistance on the chart, this now looks increasingly likely.
The second danger is of course OPEC whom some have written off – foolhardy in my view. OPEC are in full control of this market and know precisely where and how far they will go to break the competition. For oil traders, volume holds the key – it is the one defining indicator which will reveal clearly and simply when the big operators and buyers return. For the time being, it's the starting bell for round ten as another battering awaits oil in the markets tomorrow. Seconds out, and let battle commence.
By Anna Coulling