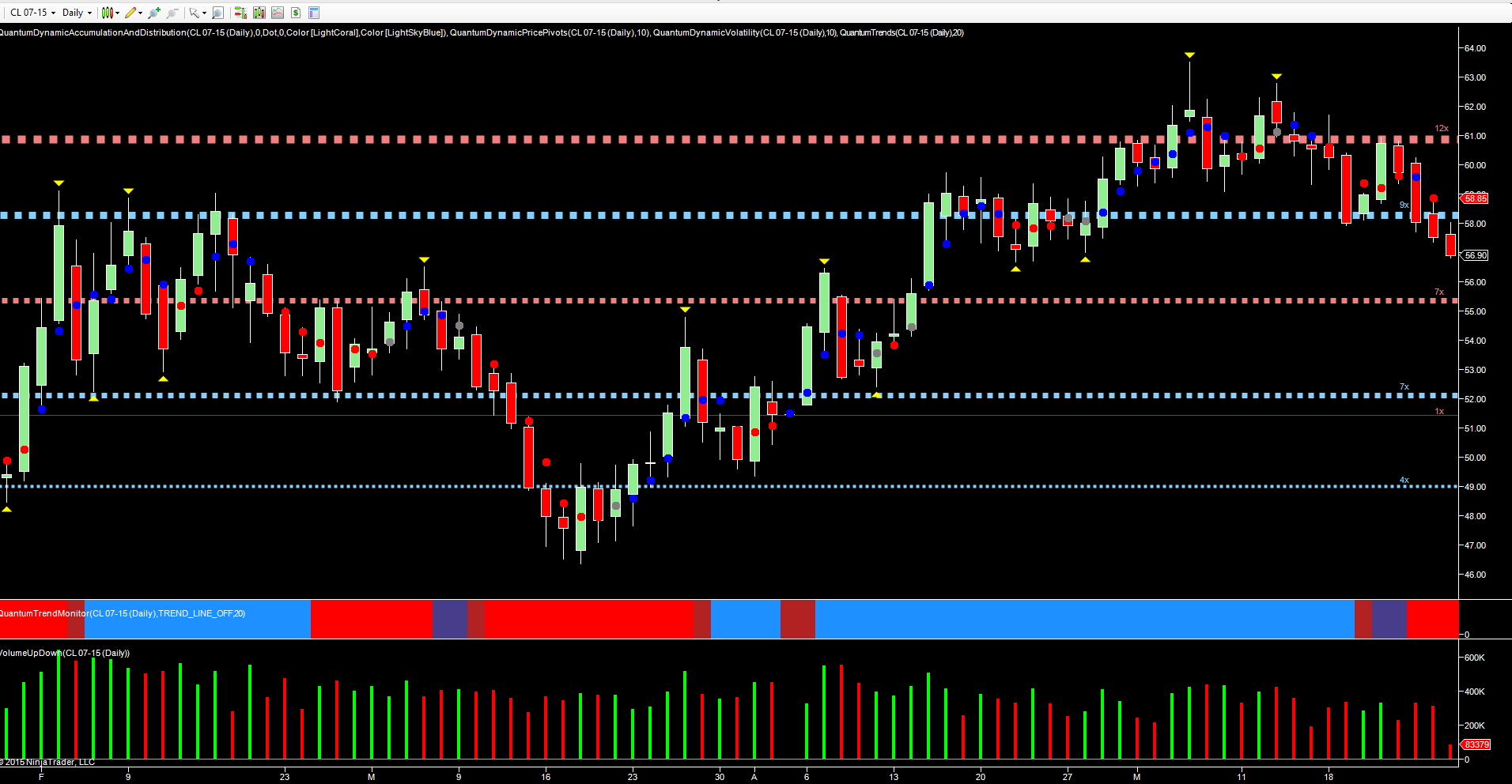 It's been an interesting few days for oil traders as OPEC's decision and comments to take on the alternative energy market head to head in a price war, is likely to dictate the longer term direction for some time to come. And in case you missed these comments, the broad gist was that oil prices were unlikely to test the $100 per barrel region within the next decade.
With these comments as the backdrop to the price action, the recent move lower for oil has been no great surprise, with the initial weakness first signaled on the 6th May with the shooting star candle on good volume, and which was then duly validated with the pivot high, followed by a further confirming signal on the 13th May with a second pivot high.
The move through the platform of support in the $61 per barrel region, as shown with the red dotted line was pivotal, with oil falling sharply to test the platform of support in the $58 per barrel region. This duly held, but the most telling price action then arrived with a wide spread up candle on average volume, with the commodity duly failing to break back above the ceiling now in place at $61 per barrel. Since then, bearish sentiment has returned with a vengeance as oil has moved firmly through the platform of support in the $58.50 per barrel region (as denoted by the blue dotted line). This support and has now been breached, with yesterday's trend dot adding further downwards pressure to the move lower. Overnight on Globex, and into the early oil trading session, prices have continued to push lower to trade at time of writing at $56.94 per barrel, with the congestion phase of the last few weeks now weighing heavily.
With markets closed on Monday, the weekly oil inventories are due for release later in the session, with a forecast for another draw of -1.5m bbls against last week's draw of -2.7m bbls. Whilst the longer term trend has seen a shift from the relentless build in inventories, to the more recent draw, this has done little to help oil prices sustain the rally of late March and April, as a resurgent US dollar and OPEC's comments combine to weigh heavily. The trend monitor at the bottom of the chart is also confirming this bearish shift, having transitioned through to dark red in the last few days with $55.30 per barrel now looking like the next stopping point. Any move through this level will then see oil move lower still and back to test the $52 per barrel region in due course.
By Anna Coulling
Charts are from NinjaTrader and the trading indicators from Quantum Trading.