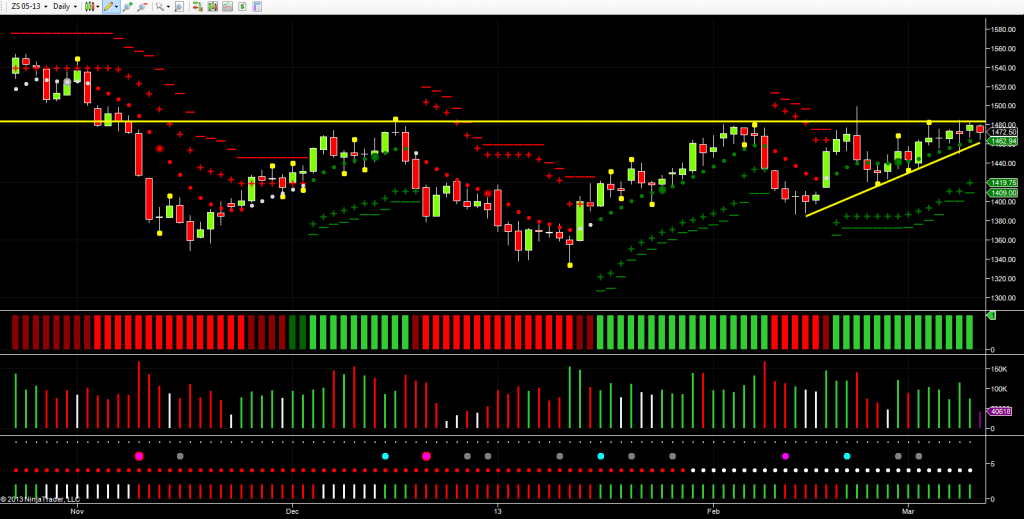 Soybean futures is one of several commodities that have been trading in a narrow range recently, and following last week's price action, are now delicately poised on the daily chart. Whilst the 1500 price point is the psychological level, it is the 1480 region, where the market has developed a powerful region of price resistance, which the commodity has failed to breach on several occasions over the last few months.
Indeed this level was tested twice last week, failing on both occasions and posting an isolated pivot high on the 5th March at 1482.25 cents per bushel. The question now is whether the commodity is preparing to break out, and for an answer to this question we need look no further than the price action of the last two months, and in particular to the low of each day. Since early February, the market has created a series of higher lows, whilst simultaneously testing the 1485 area, creating a classic rising triangle pattern, which is sending a strong signal of bullish momentum, provided the upper level is breached. The daily trend is confirms this view, and whilst the three day trend still remains in congestion, any return to bullish sentiment will then provide further momentum to any breakout to the up side. Volumes on both the daily and the three day chart remain firmly bullish, and the key now is a break and hold above the 1500 level. If this is achieved in the next few days, then expect to see Soybean futures extend gains further, with a possible test of the 1555 area in the medium term.
From a fundamental perspective, Brazil's record crop is bringing new supplies onto the market, replacing demand for the older US crops. Whilst a record crop would normally drive prices lower in the short term, Brazil is currently having severe logistical problems in exporting its crop overseas, forcing buyers to turn to the US crop for immediate supplies, which is helping to maintain the bullish tone in the short term.
By Anna Coulling
Come and join my live training room and discover why in today's complex markets price behaviour holds the key to your trading success.