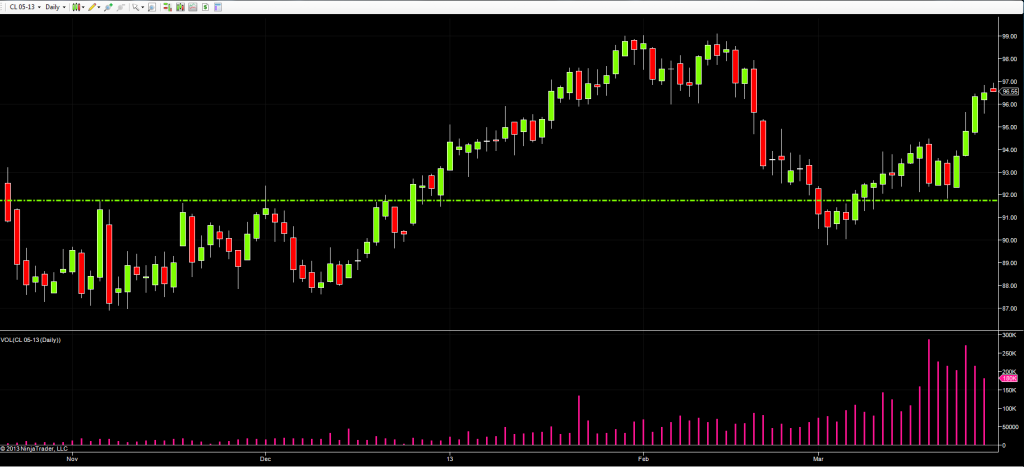 May crude oil futures continued to climb higher once again in yesterday's trading session, closing at $96.51 per barrel, with a narrow spread up candle with wicks to both top and bottom on the daily chart. The short term technical picture is now dominated by the sustained resistance in this area, which extends from $96.60 per barrel, through to the $99.20 region, which was the point at which the commodity capitulated last time, as it attempted to breach the $100 per barrel level in mid February.
Moving to the associated volumes, these remain strong, with yesterday's volume lower than that of Tuesday, but as expected, given the narrow spread price candle on the daily bar. However, there is a cautionary aspect to the current volumes over the last few days, as with rising prices we are currently seeing declining volumes, but the impending Easter holiday will also have an impact on trading volumes over the next few days. So we need to bear this in mind.
For a continuation of the current bullish momentum and a breach of resistance in the immediate area above, we need to see volumes pick up again, as crude oil prepares for a run towards three figures once again.
In contrast to last week's oil stats which saw a draw in inventory, this week the picture was reversed, with a build at Cushing in yesterday's release, which saw oil inventories build to 3.3bbl against a forecast of 1.5bbl. Despite the build, oil prices remained bullish and indeed in overnight trading on Globex pushed on to test the $97 per barrel region. It is also interesting to note that both oil and the US dollar are rising together, as the more conventional inverse relationship seems to have broken down temporarily, with the dollar index pushing higher through the 83 region since breaking out from sideways congestion.
The short term outlook remains bullish, and over the next few days we should see the resistance area outlined above, tested. Any breach of this region will need effort, and this will need to be reflected in volumes on the daily chart, as the commodity attempts to break through once again.
By Anna Coulling