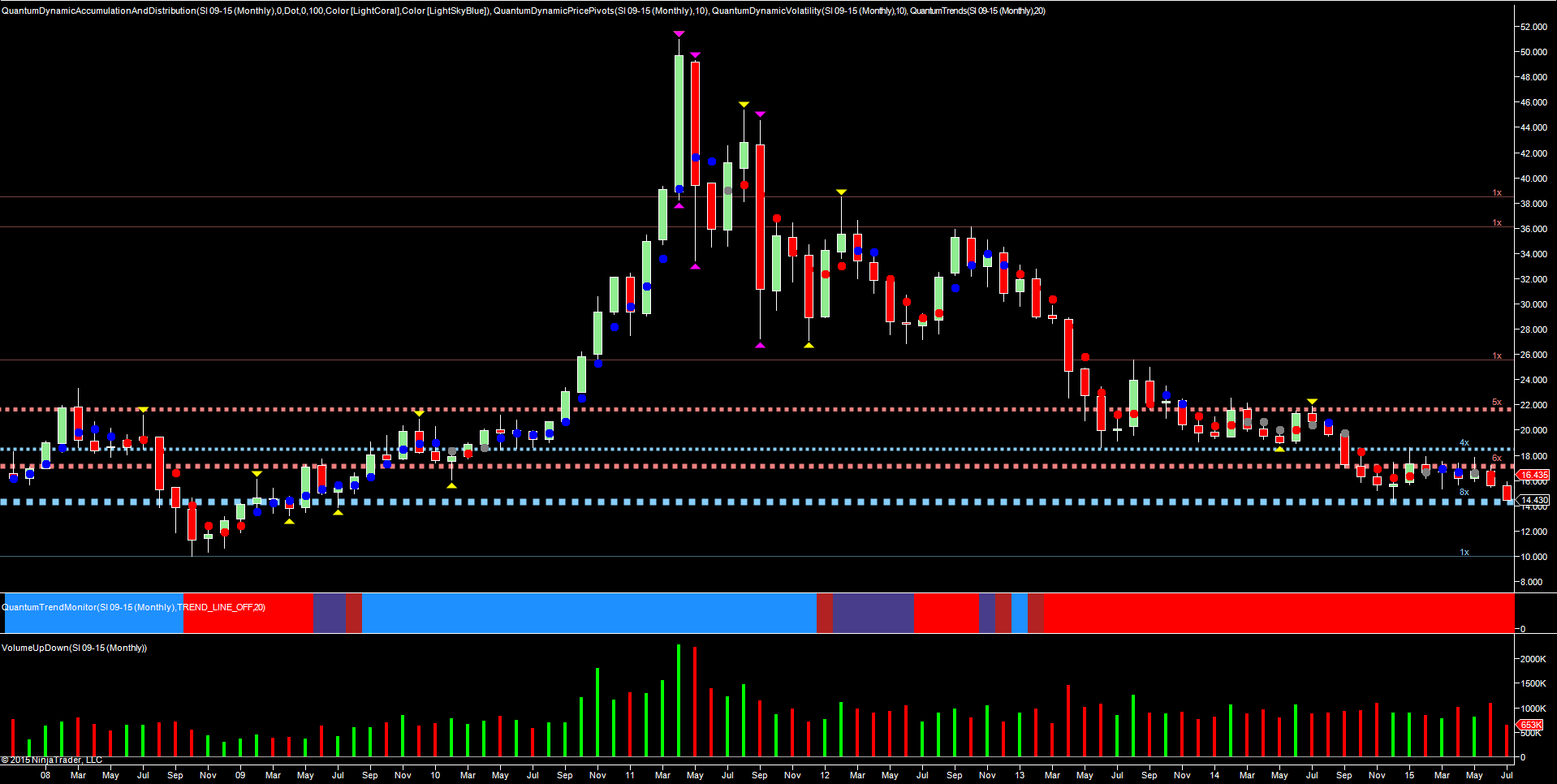 For silver investors, and those who rushed headlong into buying when silver prices hit the $50 per ounce price point, it is perhaps the monthly chart which makes depressing reading, with the meteoric rise now reflected in an equally dramatic fall, and mirroring what has happened which in the price of gold. The monthly silver chart also defines the various key levels which have either helped or hindered the metal's progress lower. The first of these developed in the $21.80 per ounce region as the commodity moved into a well developed phase of price congestion early in 2014, before finally breaking lower towards the end of the year, before moving through the platform of support in the $18.40 per ounce region, as denoted by the blue dotted line. From November onwards, and until last month, the ceiling of resistance was duly built and tested but which to date has held firm, confirming the heavily bearish picture for silver.
So far this month this bearish tone has once again been confirmed with the metal moving well away from this region, and down to test a deep and substantial platform of potential support in the $14.20 per ounce area, as denoted with the blue dotted line. In trading today, this level is now under threat with silver trading at 14.41 per ounce at time of writing, and should the $14.00 per ounce area fail to hold, then like gold, a sustained move lower is likely to develop, with a test of the next platform of support at $10 per ounce. How the mighty have fallen, and like gold, unpleasant reading for any longer term silver investors. As always, the time to buy again for investors will be signalled through the prism of volume but for speculative traders VPA (volume price analysis) is the perfect approach to confirming intraday moves, both long and short.
By Anna Coulling
Charts are from NinjaTrader and the trading indicators from Quantum Trading.