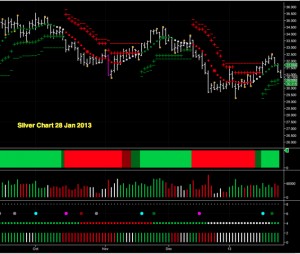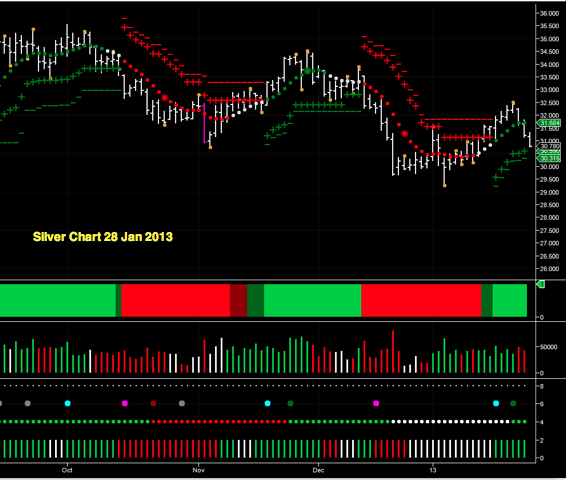 As outlined in my post of 21 Jan 2013 silver did indeed run into headwinds at the $32.50 price point – in fact posting an isolated pivot high on the daily chart at $32.49 exactly!!
Since then silver has been under pressure, moving lower and closing today's session at $30.78 per ounce for the March contract.
For silver bulls, the hope now is that the platform of support now in place immediately below in the $30.59 region will hold firm.
And perhaps one way to answer this question is to consider the gold chart as the two metals generally move in tandem.
Moving to the gold chart, negative sentiment is also apparent here with the daily trend already transitioned to bearish and breaking below the interim support in the $1660 per ounce level.
To the upside the $1700 per ounce price point is now extremely well defined in terms of price resistance and adding its own pressure to the bearish sentiment for gold.
In addition selling is now clearly evident on the daily chart with the heat map also having transitioned to bearish, reinforcing the current negative sentiment.
The three day trend for gold also remains bearish, although there is some buying in this timescale the key potential platform of support for gold is at $1640 per ounce.  However, the bad news for gold bugs is that the $1700 per ounce level also coincides with the 200 day ma which sits just below at $1690, so a difficult time ahead.
Returning to the silver chart whilst the daily trend has not yet transitioned to bearish it has already flattened and is looking set to roll over.  However, it is also interesting to note that this evening's close stopped at the 200 day moving average and this could provide some respite to silver's recent slide.  So tomorrow's price action will be key.
In addition, both metals are also under pressure from a fundamental perspective on two fronts.  First, the current rush to riskier assets, particularly equities.  Second, the returns on equities are seen as better than in commodities at present, a further reason for the current weakness in both gold and silver.
Finally, with inflation prospects virtually non existent at present, the demand for gold as a hedge is minimal which is also adding to gold's current bearish picture.
By Anna Coulling