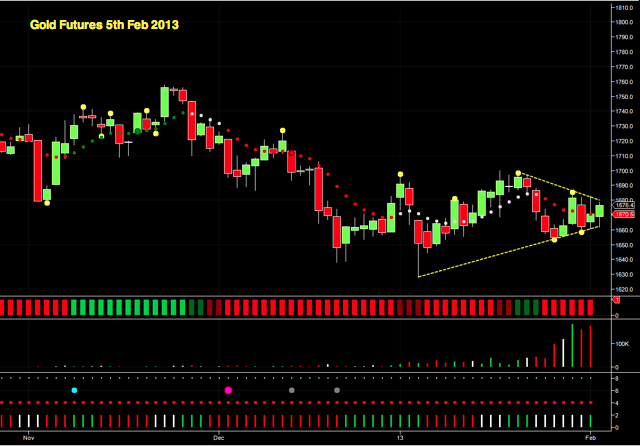 April gold futures continued to trade once again yesterday in a narrow range closing the session at $1676.40 per ounce having initially opened at $1669.10 and posting a narrow spread up candle, as a result.
Yesterday's price action on the gold chart continued to reinforce the waterlogged nature for gold with the current congestion zone now clearly defined by the isolated pivot high of 30th January at $1685.20 and to the downside by the isolated pivot low of 31st January at $1658.20.
As a result the price action on the daily chart is now tightening into a classic pennant formation and, as always, the longer this continues then the more dramatic the breakout, when it occurs.
This effect is analogous to that of a coiled spring and so far this week price action has been tightening between $1680 to the upside and $1660 to the downside and from the candles posted so far gold is more likely to break to the upside.
However, for any strong bullish momentum to return and be maintained the gold price has to break and hold above the critical $1700 per ounce price point.
Meanwhile to the downside, the platform of support that is most significant is in the $1640 area.
By Anna Coulling
Come and join my live training room and discover why in today's complex markets price behaviour holds the key to your trading success.