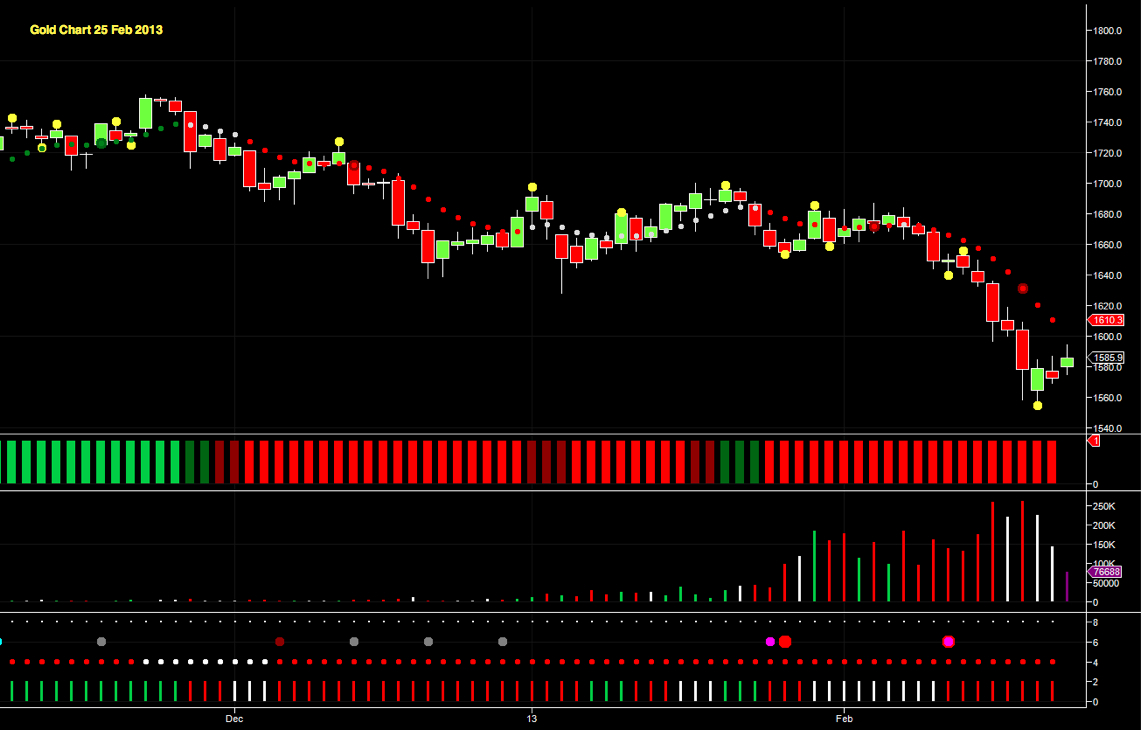 In a trading week dominated by politics in the shape of the US budget sequester on 1st March, testimony from Fed Chairman Ben Bernanke and important PMI data the result is only going to be some very interesting and volatile price action across all instruments. And perhaps none more so for gold which has suffered in the past few weeks from traders and investors moving into other asset classes, such as equities.
For gold bugs last Friday's price action on the daily April gold futures chart came as a relief as the precious metal finally put in an isolated pivot low at 1554.10.  This has provided some much needed upwards momentum for gold on the Globex contract which is trading, at the time of writing at 1588.70 and looking to re-test the resistance in the 1600 per ounce level.  This move higher, has also been assisted by weakness in the US Dollar, which has pulled back sharply this morning with the USD index testing and failing at a key price level, namely the 81.60 point.
Despite this mildly bullish tone for gold, from a technical perspective, we still need to see the gold price push higher, first through 1600 and then to test the well developed and extensive resistance in the 1640 region.
Moving to our other indicators the daily trend remains bearish, as does the three day trend and whilst the volume on the daily chart has transitioned to no demand, the three day still remain bearish.
However, given this very unusual week, the fundamentals may simply trump all the technical indicators as traders and investors simply take fright.
By Anna Coulling
Come and join my live training room and discover why in today's complex markets price behaviour holds the key to your trading success.