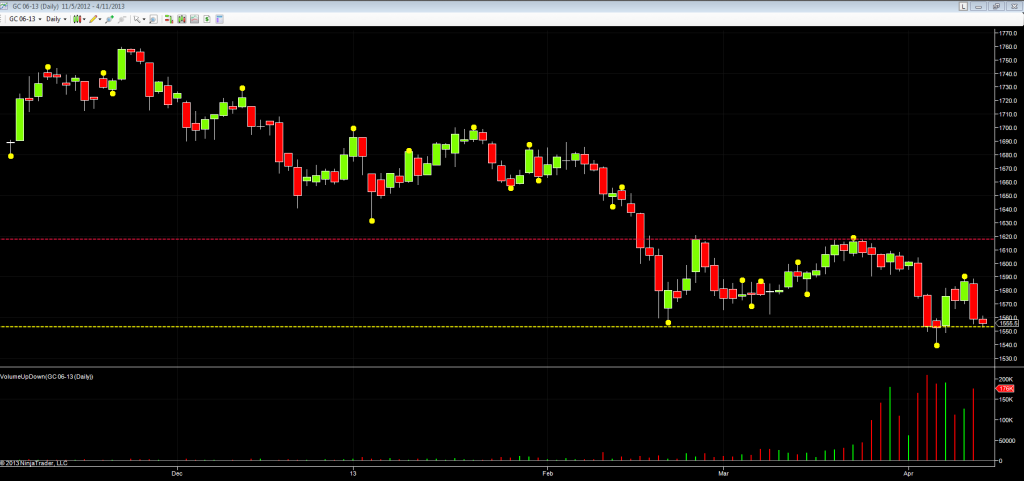 The sorry state of affairs for gold bugs continued once again yesterday, with the June gold futures contract ending the electronic session with a wide spread down candle, having fallen over $25 per ounce in the session and closing at $1558.80 per ounce. However, not only was it yet another negative day for gold, the daily chart has also delivered some worrying signals which do not bode well for the gold price in the short term.
The first of these is the isolated pivot high which has now been posted on the daily chart at $1590 per ounce, and this in itself will add further downwards pressure to gold. Second, the volume associated with yesterday's wide spread down candle was well above average, sending a clear signal of selling pressure, and once again, if we are to see any reversal in the short to medium term, we will need to see evidence of stopping volume, coupled with the required price action.
We saw an example of this last week with the hammer candle and high volume, a clear signal that the volume here was predominantly buying, which duly pushed the commodity higher and back to test the $1600 per ounce level. However, as I wrote at the time, one swallow does not make a summer, and for any sustained recovery this needs to be matched with a sustained period of buying, which is certainly not the case at present.
The key level, which has been on the daily chart for some time, is the yellow dotted line of potential support in the $1555 per ounce area. This was tested again yesterday, and is being tested once more this morning. If this is breached in trading today, or indeed in the next few days, with a clear hold below, then expect to see gold prices sell of sharply and test the $1500 per ounce level in due course.
These are not happy times for gold bugs, but rest assured they will return, with North Korea being one possible catalyst in the short term. Longer term, with countries increasingly desperate to drive some much needed inflation into their economic systems, gold will once again become the ultimate hedge, as the economic cycle begins it's inevitable journey once more.
By Anna Coulling