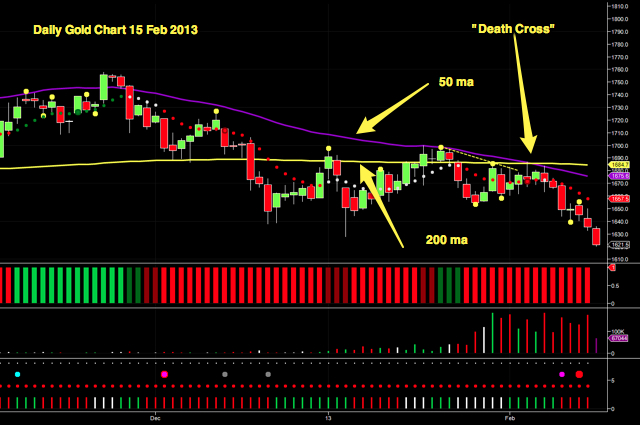 Bearish sentiment continues to build on the gold chart with the March contract now gathering momentum to the downside, helped along by the classic "death cross" technical signal which is now in place.
The death cross is the crossover between the 50 ma and the 200 ma, clearly signalled on the chart and also reinforcing the recent price resistance in the $1684 per ounce level.
In overnight and early trading on Globex the gold price has pushed lower still to trade at time of writing at $1622.50 per ounce, moving through the support level at $1627 of early January.  This bearish sentiment is also clearly evident across the other indicators, namely the heat map, selling volume in both our time frames, and both trends also echoing this negative view.
In addition, the market also posted an isolated pivot high on Wednesday at $1655 per ounce, which is adding further pressure to the downside.
The only chink of light for gold bugs is the support platform in the $1620 price region and this really needs to hold if gold prices are to recover in the short term.  However, any failure here will send gold prices through the $1600 price point and even lower to test the $1560 area in due course.
From a fundamental perspective there is some hope for gold bugs as China is likely to launch an ETF backed by physical gold.  Gold ETFs have been enormously successful elsewhere in the world, contributing to the the surge in gold prices since their launch back in 2003.  SPDR Gold Shares is the largest and holds 1,327 tonnes of gold – more than all but four of the world's central banks.
In addition, the World Gold Council also announced recently that central banks too have taken their own purchases of gold to a 48 year high.  Until about 4 years ago central banks were predominantly net sellers of between 400 to 500 tons.
However, central banks are now net buyers of around 500 tons per year.  The latest recruits include Brazil, Iran, South Korea and the Philippines with Russia continuing to add to its reserves 2012  via the purchase of its own mined gold.
So, in summary despite this current pullback on the gold chart, the demand for gold remains strong.
By Anna Coulling
Come and join my live training room and discover why in today's complex markets price behaviour holds the key to your trading success.