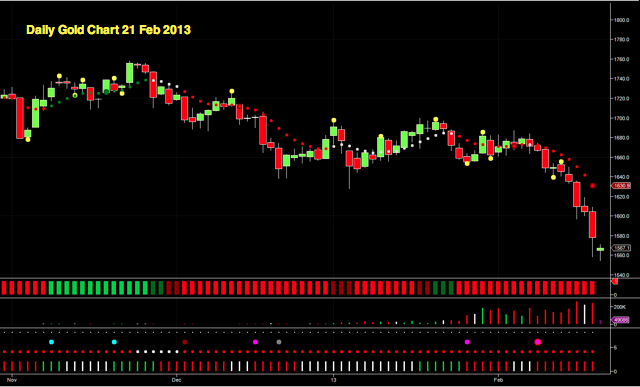 April gold futures finally broke below the $1600 per ounce level this week, touching an intra day low of $1558, before recovering to end the session at $1578 per ounce.  Much of this negative sentiment for gold was driven by strength in the US Dollar which surged higher on the FOMC release.  On the surface the  FOMC minutes appeared to be more hawkish than expected as some FED members appeared to question the viability of an open ended QE3 policy.  The result was a consequent surge higher for the dollar index which broke above the 81 price point to test the 81.20 region.
Indeed from a technical perspective the index is now preparing for a further run to the 81.50 high of mid November which defines the upper range of its current congestion zone.  And at time of writing this price point has indeed been tested and broken.
However, even before yesterday's price action the gold price has been heavily bearish with the current sharp move lower also driven by the "death cross" technical signal detailed in my previous post.  Technically for gold the next level of support is now in the $1538 region of mid 2012.  The good news is that it was this   platform of support which provided the springboard for a return to a bullish trend at that time.
However, should this be breached then we could even see gold test the $1500 per ounce price, a point not seen since mid 2011.
By Anna Coulling
Come and join my live training room and discover why in today's complex markets price behaviour holds the key to your trading success.