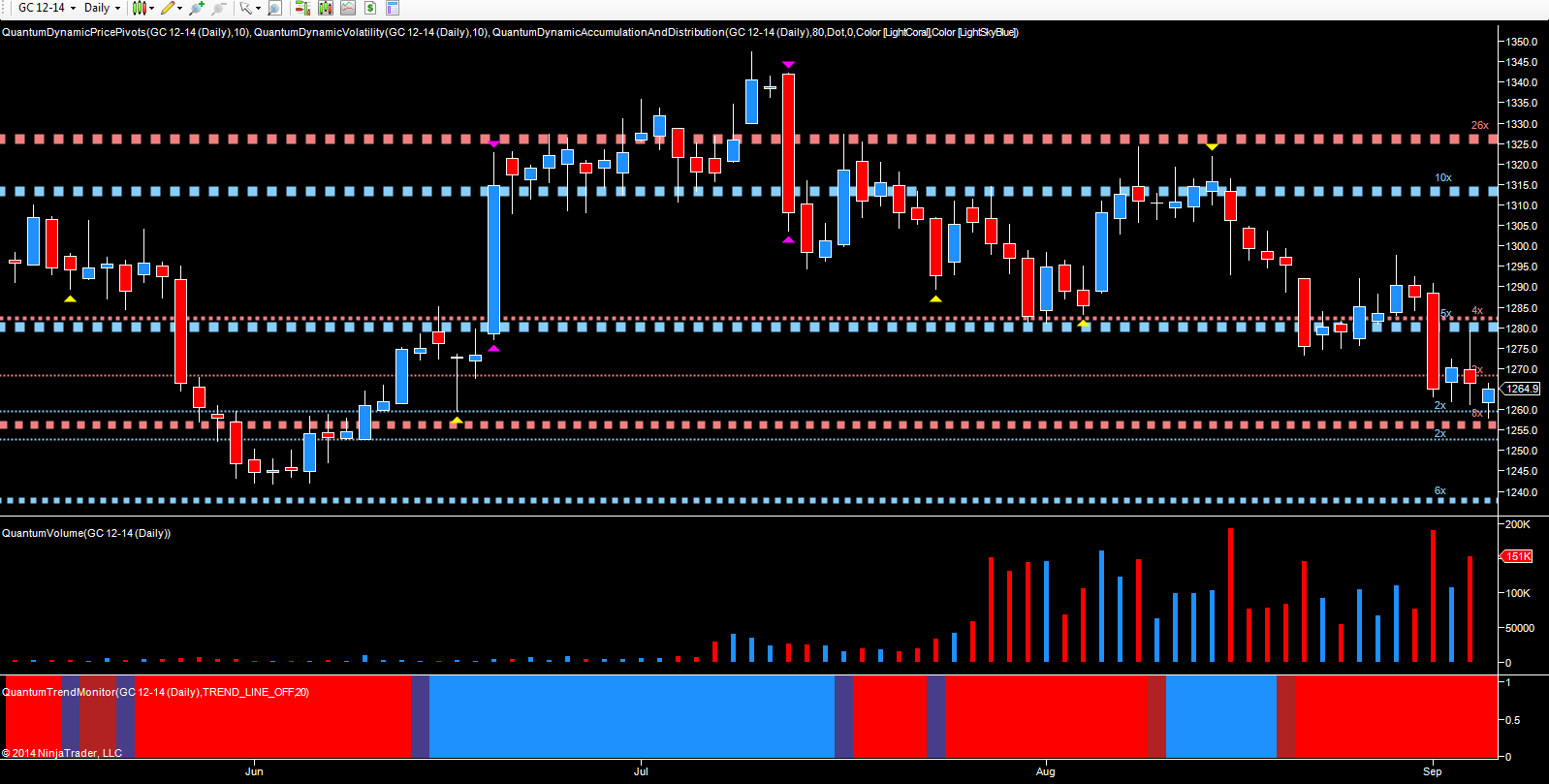 For gold bugs, yesterday's gold trading session was another of those which promised much but delivered little, as the precious metal attempted to rally early in the session, before the weight of selling pressure overwhelmed the beleaguered bulls once more. The pattern for gold is now becoming remorseless and repetitive, with bearish sentiment now dominating, and as each rally comes and goes, the metal moves ever lower on the longer term chart.
Yesterday's price action, was once again a classic example, with the high of the session at $1279.20 per ounce, failing to breach the deep resistance area in the $1280 per ounce region, and defined by the accumulation and distribution regions of the blue and red dotted lines. The candle duly closed with a deep upper wick and narrow body, on above average volumes at 151k contracts traded in the session. The next level of support is now awaiting in the $1255 per ounce region. In overnight and early trading on Globex gold is currently trading lower once again, but is attempting to rally and trading, at time of writing at $1265.60 per ounce, with the $1255 per ounce region holding firm so far. This is a key region, but if this potential platform of support fails to hold, which appears increasingly likely, the next logical level now awaits at $1238 per ounce, and from there it's a short hop down to test the $1185 per ounce region of early January which will round off a dismal year for gold traders and investors.
In summary, the pattern for gold now appears to be set, and with little help from the fundamentals, a resurgent US dollar, strong equity markets, yesterday's ECB decision, and little or no inflation on the horizon, the outlook remains bleak. For the remainder of 2014, gold looks set to continue to fall, with each leg down punctuated with a rally higher, before the next leg down begins. As always it will be volume that signals the start of any new trend, but to date, there is no evidence of the start of a buying climax, and until this appears, gold will continue its depressing journey South.
By Anna Coulling