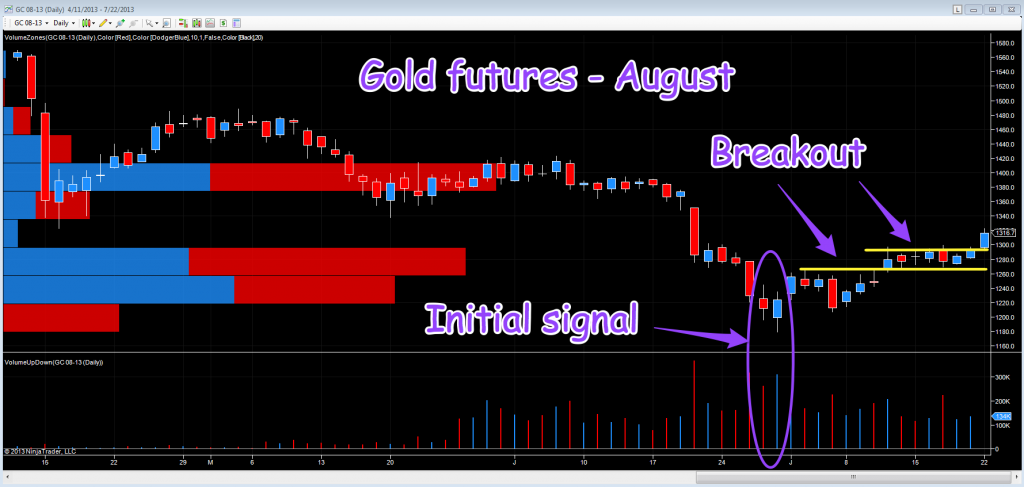 Just as gold bugs were beginning to despair of ever seeing an end to the relentless slide in its price, a small chink of optimism has appeared on the daily gold chart, where volume is once again leading the way and giving gold traders some much needed advance information on where the gold price is heading in the short term. The initial signal of a possible change in the recent bearish sentiment arrived at the end of June with two above average volume bars with associated narrow spread price action which sent a strong signal of a potential short term reversal, as shown on the annotated chart.
This reversal then moved into a period of sideways consolidation with a ceiling of resistance duly being created at the $1260 price level, which was breached last week on rising and above average volume, and then followed by a further period of sideways price consolidation.
This morning's gold trading session on Globex has seen the precious metal breakout, once again, in a similar way to earlier in the month, and as a result, has created a second platform of potential support at the $1300 per ounce level. This is now a critical price point given the deep and sustained area of price congestion clearly evident on the volume at price histogram. And provided the gold price continues to hold between $1315 and $1320 there is no reason to suppose that the time has come for gold bugs to rejoice.
However, before getting too carried away the journey back for gold will be long and difficult, and indeed the next phase of congestion awaits and is clearly visible and lies between $1380 and $1420. In the short term expect gold to test the lower level of this price band, as any breach will require rising and sustained volumes. Only this will validate any break beyond to the upside.
From a fundamental perspective the recovery in the gold price has been given a boost in two ways. First by a period of US dollar weakness, following indecision from the FED on any tapering of QE, and secondly by the prospect of inflation as signalled by rising bond yields at the back end of the curve.
By Anna Coulling