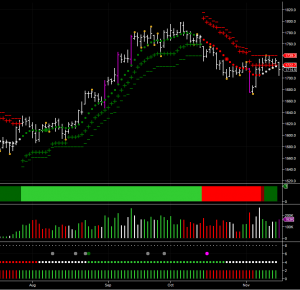 An interesting day for the gold market yesterday, as December gold futures sold off initially, only to recover later in the session to close at $1714.50, as the precious metal continues to trade in this narrow range, and holding just above the $1700 per ounce level, which was tested once again. The current price action is far from straightforward at present, driven as it is by a combination of factors including safe haven status, dollar strength, and demand for the metal which has fallen in China recently, and which was cited as a primary driver in yesterday's market. The US dollar is also contributing to the current weakness, and with the currency of first reserve now looking to extend it's recent bullish run higher on the dollar index, gold is likely to come under pressure once again. However, given the negative sentiment for risk assets now clearly in evidence, investors may seek the safe haven status of gold in the short term, particularly if the VIX breaks about the key 20 level on the daily chart.
Moving to the daily chart for gold, the isolated pivot high posted on the 9th November is now adding pressure to the current move lower, with the market having failed to breach the $1739 per ounce level, creating a secondary level of price resistance. As such, the last few days of price action are now looking increasingly like a minor pullback in the bearish trend, and simply a short term reaction higher from the isolated pivot low posted on the 5th November at $1672 per ounce, which gave gold a much needed boost from this level. The daily trend however has now transitioned back to white and into congestion, with the same picture on the three day chart. Here again the three day trend remains in congestion, and despite the buying volumes of the last few days, gold looks set to continue sideways in the short term.
The congestion area for gold is now clearly defined on the daily chart, with the isolated pivot high to the upside, and the isolated pivot low to the downside. Until one of these price points is breached, then we can expect to see gold trade in this narrow range, oscillating above and below the $1700 per ounce level in the short term.
By Anna Coulling