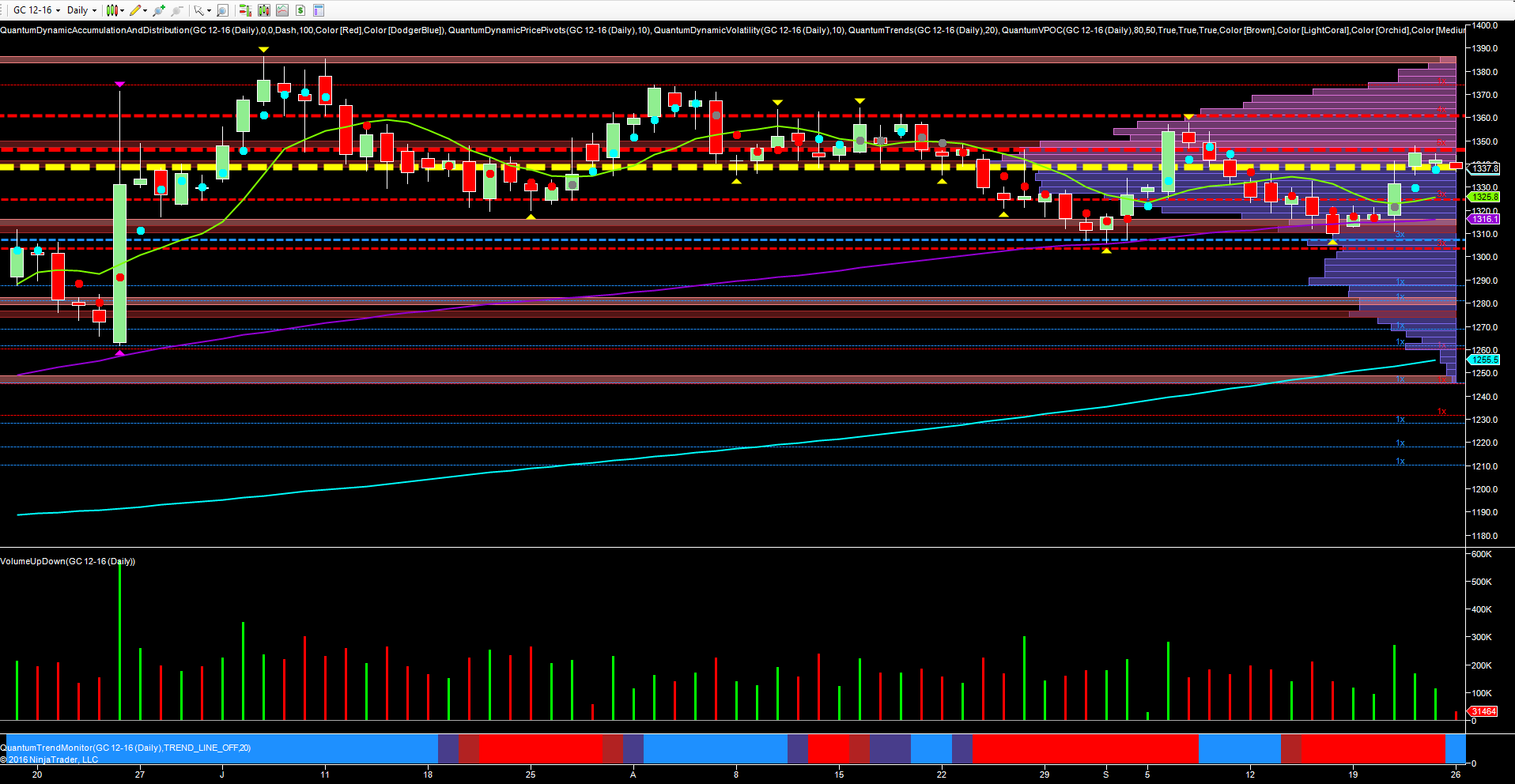 The technical support platform in the $1305 per ounce area came to the rescue of gold once again last week, with five consecutive days of gains, taking the precious metal from the gapped up open of Monday at $1313 per ounce to end the week at $1341.70 on the December contract.
As I suggested in one of my previous posts for gold, the FED delivered a helping hand following the decision to leave rates unchanged, and driving the price higher on strong volume, and back to the volume point of control which remains in the $1338 per ounce area. However, note the falling volumes on Thursday and Friday with little follow through, with early trading seeing gold move lower to currently trade at $1338 per ounce.
Despite this bullish sentiment, longer term gold remains rangebound, and continues to trade within the spread of the Brexit candle of late June, with both Thursday and Friday's price action testing the well developed resistance area at the $1345 per ounce price point, which to date has help firm.
For longer term speculators and investors the technical picture is clear, and until we see the current tunnel range breached, we can expect further congestion to build with the VPOC providing the fulcrum around which this market is currently balanced, and transacted volumes building accordingly in this area. To the upside the ceiling remains in place at $1385 per ounce, but it is interesting to note the general decline in each attempt to rally, with secondary resistance building at $1360 per ounce. The floor of support is well defined, and should this fail to hold in further testing longer term, a deeper move to test the $1260 per ounce area is then likely. In the meantime, patience is the key!
By Anna Coulling
Charts from NinjaTrader and indicators from Quantum Trading