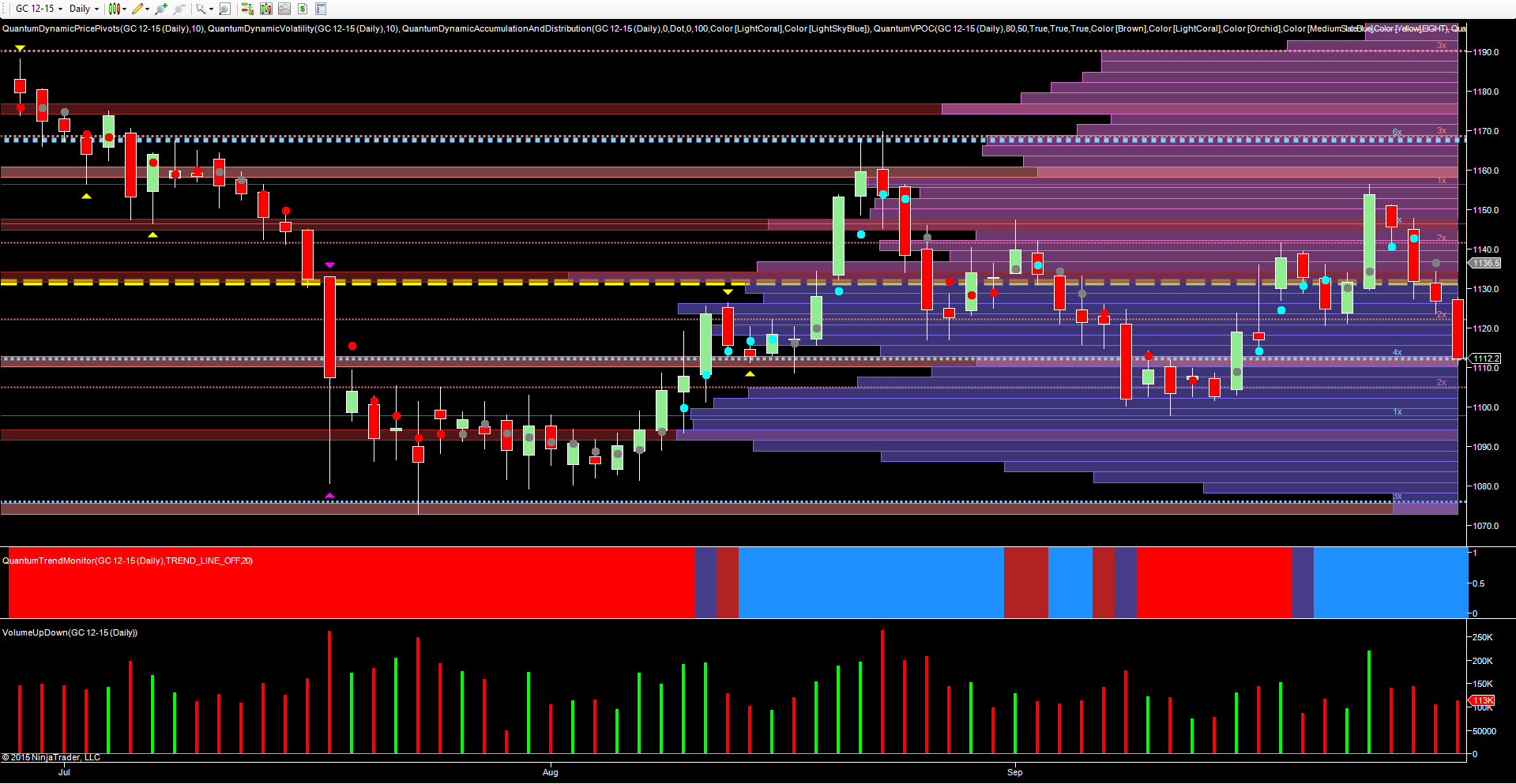 Another dismal week for gold investors as the precious metal continues to reflect the longer term bearish sentiment, and with last Thursday's surge higher failing to break through in any meaningful way.
This price action has been the pattern for gold since the summer with August's rally finally running out of steam in the $1170 per ounce region, and duly reversing before finding some support at the $1100 per ounce area. Throughout September the metal has attempted to rally with last Thursday's effort the most spectacular and accompanied by good volume. However, the price action once again ran into sustained congestion overhead in the $1158 per ounce region, and since then we have had four down days of price action with today's being the most dramatic.
As always in any analysis of gold, I am always conscious of the sentiment we all feel for the precious metal, and indeed as a speculative trader this can be immensely dangerous, and is perhaps one of the reasons I and other analysts draw some flack when writing about the future direction of their beloved metal. Our instinct and indeed our emotional response as an investor is that gold prices should rise, and rise quickly. And yet, when the technical and fundamental picture combine to reveal a different story, as speculative traders we would be foolish to allow sentiment and emotion to rule. That said, many traders do, and to some extent the same could also be applied to oil. Both commodities are limited in terms of supply, both hard to extract, both are precious and both should rise in price not fall in the longer term. For oil, the difference here has been the head on engagement by OPEC in a price war with the alternative energy suppliers, which is becoming increasingly bitter and drawn out.
For gold, there is no such influence, with the metal driven by fundamentals of supply, risk and inflation. Of these it is the last which is the traditional driver, and until the spectre of rising inflation raises its head, the longer term outlook will continue to remain very bearish, a fact borne out by an analysis of the volume profiles.
By Anna Coulling
Indicators by Quantum Trading – charts by NinjaTrader