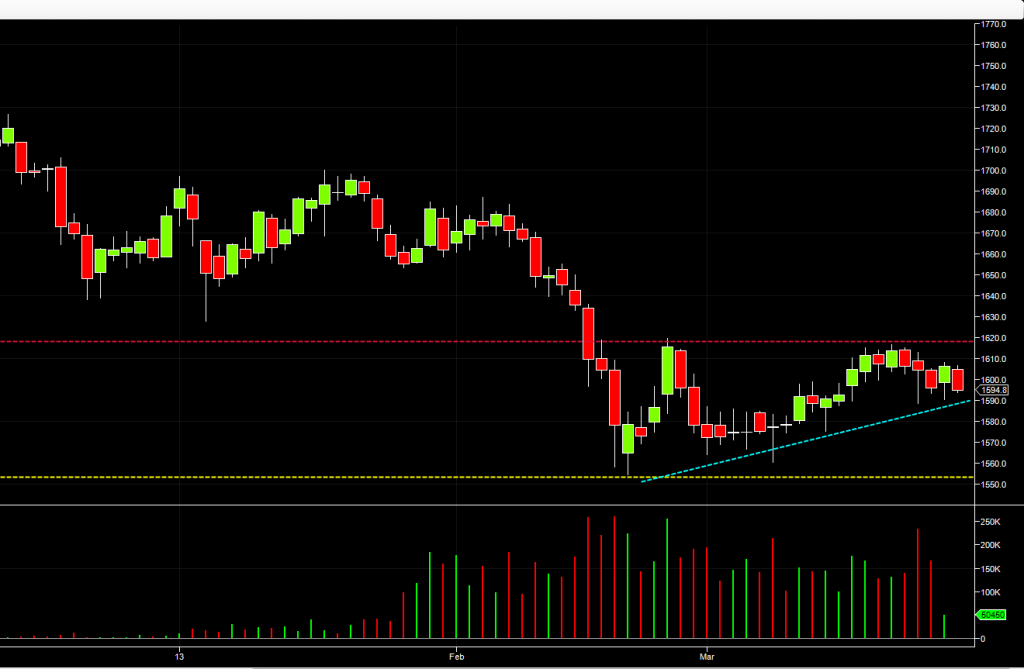 Gold continued to trade in a narrow range once again yesterday, with the April gold futures contract closing marginally lower and ending the gold trading session with a narrow spread down candle, closing just below the psychological $1600 per ounce level at $1594.80 per ounce.
From a technical perspective the upper level of price resistance still remains firmly defined at the $1618 per ounce level as shown with the red dotted line, whilst the downside support is shown with the yellow dotted line in the $1555 per ounce area. For the time being both of these levels remain key. It is interesting to note however that the rising blue line remains untested for the time being, and provided this continues to hold firm, the prospects for a breakout to the upside remain positive.
Moving to the trading volumes, Wednesday's up candle was supported by low volume, a potentially worrying signal, although with many markets closed today, this was much as expected in a short trading week. Earlier in the week, both Monday's hammer candle suggested buying in the market on above average volumes, with the price closing back near the open, and with Tuesday's volume falling on a narrow spread down candle, this was also another positive sign.
The problem for gold bugs as the moment however is compounded by several other factors.
First, strength in the US dollar continues to build on the daily dollar index chart, as it moves firmly above the 83 region and beyond. With the strong platform of support in place below, in both the 78 to 80 region, and more recently in the 82.75 area, the US dollar looks set to test 84 and beyond in early April. Provided the inverse relationship for commodities and the US dollar holds good, although temporarily it appears to have disconnected, then gold may pick up a bearish tone purely as a result of US dollar strength.
Secondly of course, gold is not only the ultimate safe haven, but also a hedge against inflation, and with little prospect of this in the near future, the metal has lost much of it's attraction in this respect for investors, who are now seeking out better returns elsewhere. Hedging against inflation will return, but not for some time.
So in summary, a difficult time ahead for gold bugs as we end the first quarter and head out into the second quarter of the trading year. They will be hoping that a warmer Spring will provide some much needed bullish momentum for gold.
By Anna Coulling