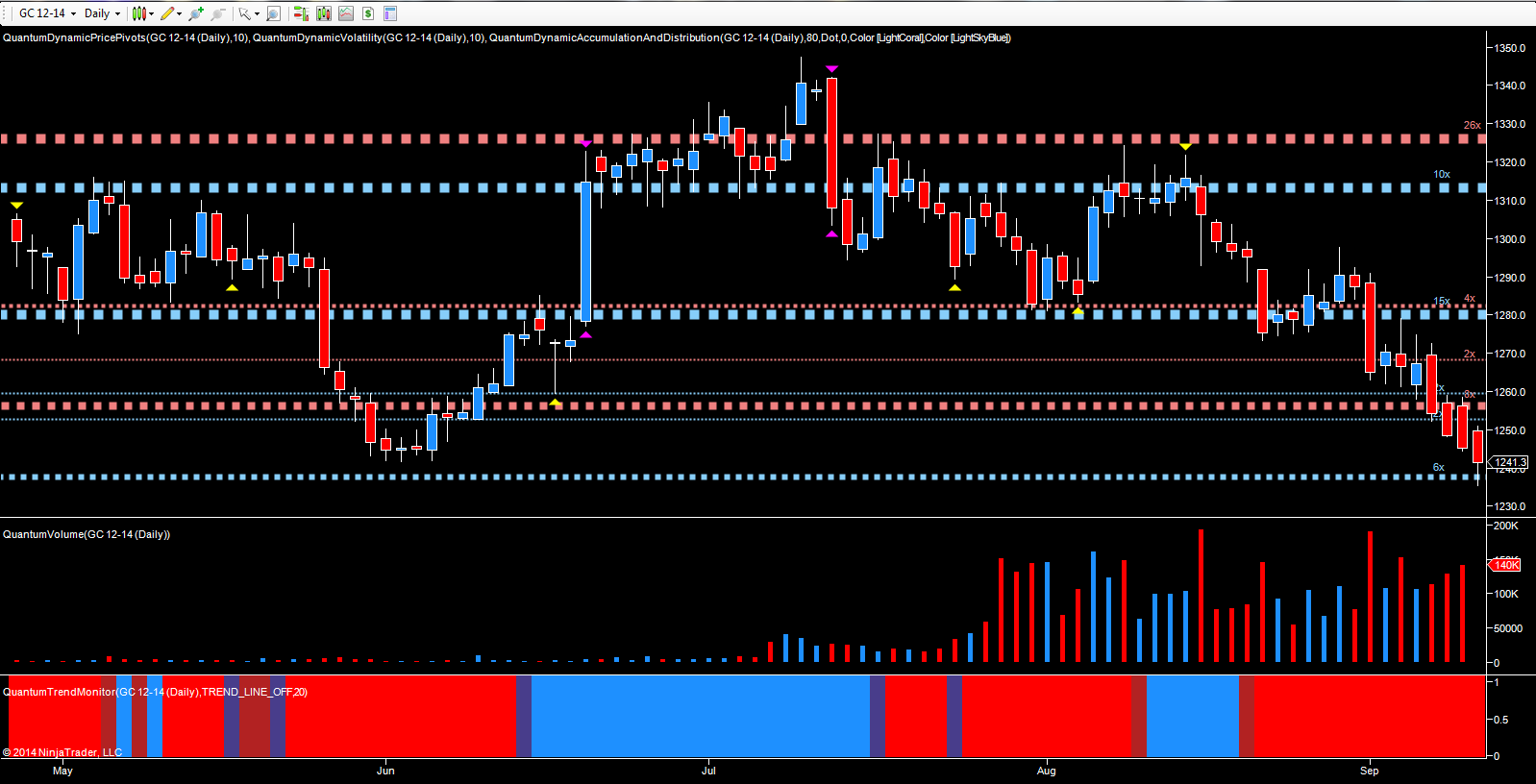 Gold has continued to remain heavily under pressure once again in today's gold trading session, with the bears in full cry, as the precious metal moved relentlessly lower to trade at $1238.70 on the December contract at time of writing. It's been another torrid weak for gold bugs, and given the technical picture, there is little sign of this bearish trend ending anytime soon. The gapped up open hinted at a possible pause, but this attempt to rally was duly snuffed out overnight and into the early morning session on Globex, with the gap duly filled as the market fell from the $1250 per ounce level. Perhaps most worryingly for gold bugs, the rallies for gold now appear to be shortening to the point where they are almost non-existent, with the pause point of last week a classic example. Prior to this, more characteristic price action was the norm, with the metal rallying or moving into a congestion phase before taking the next leg down. The current price action is now suggesting a possible price waterfall as it becomes ever more precipitous, and with volumes building in a falling market this is all suggesting a breakdown in the commodity and an imminent move down to $1185 per ounce low of December 2013.
As far as today is concerned, the low of the session has found some marginal support in the $1238.10 ounce region, with the blue dotted line denoting a potential platform of support, which appears to be holding at present. Nevertheless, with the depth of resistance now overhead, any rally will require a significant shift in sentiment and more importantly a huge shift in volume. To date, the buying climax is absent in all timeframes, which in itself suggests this market is not about to stop and reverse in the near future.
With the US dollar continuing to power higher, this is simply one of several factors which are combining to drive gold ever lower, along with silver. Traditionally of course, September is often seen as a positive one for the precious metal, largely as a result of the Indian gold buying season getting underway. Whether this will be enough to stem the tide this time round, is debatable. In addition, recent FED statements regarding interest rates have not been supportive, and with a singular lack of any inflation coupled with risk on sentiment remaining dominant, the outlook for gold is very weak, with further declines now imminent.
By Anna Coulling