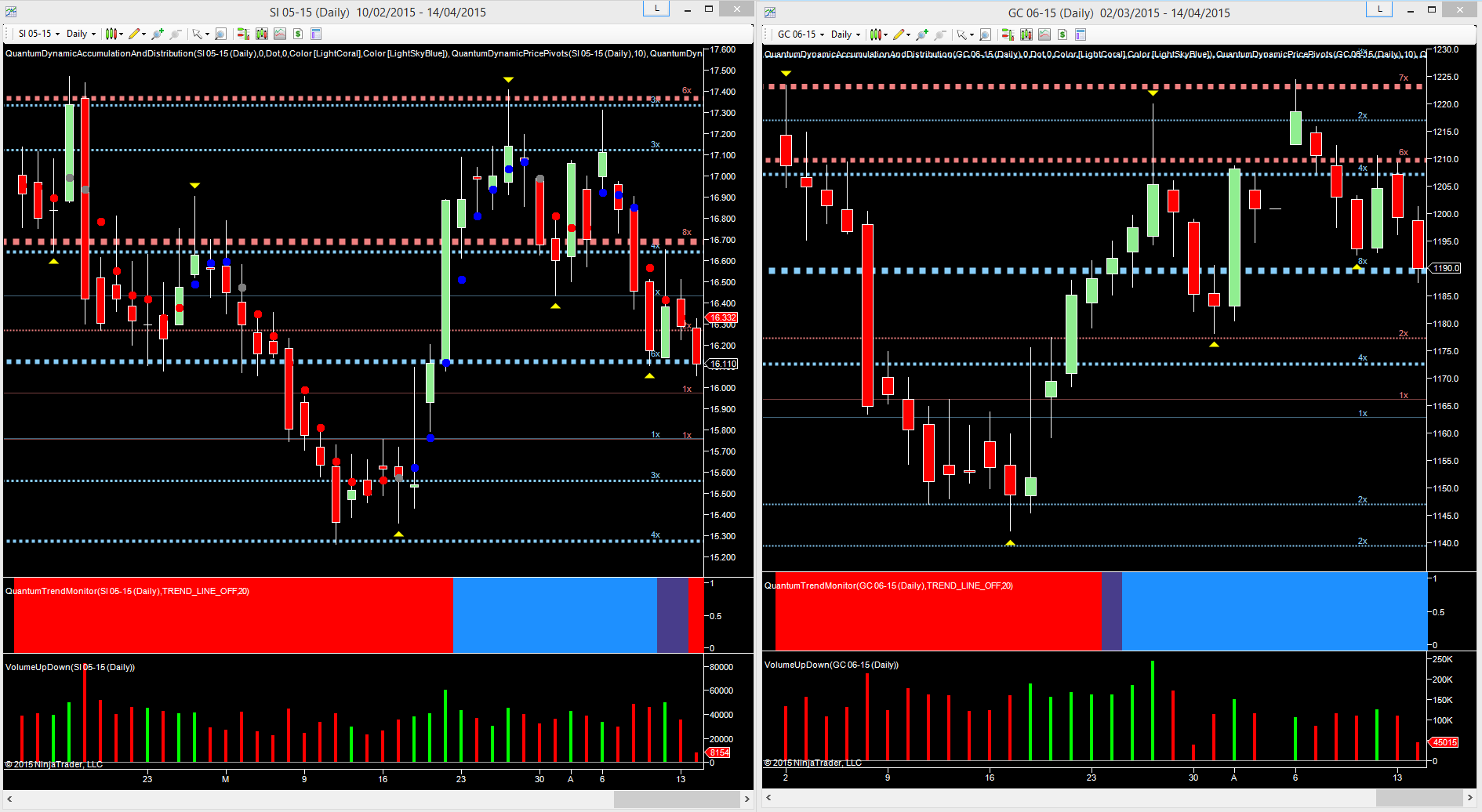 Today could be a seminal one for our the celestial metals of gold and silver, as each approach key technical levels on the daily timeframe. Since the start of the month, both gold and silver have rallied, but increasingly they are looking weak, as the longer term bearish sentiment continues to weigh heavily, and with the US dollar continuing to strengthen, and with no inflation on the horizon, the longer term outlook remains negative for both.
Starting with gold, the most recent rally saw the precious metal hit the deep resistance in the $1222 per ounce area, (as denoted with the red dotted line on the accumulation and distribution indicator). This level duly held, with the commodity then moving firmly through the potential support levels at $1210 per ounce, and subsequently through the psychological level at $1200 per ounce. In early trading gold is now testing the deep level of potential support in the $1190 per ounce region (as denoted with the blue dotted line). So far this has held, but should this be breached today or later in the week, then bearish momentum is likely to pick up once again, driving gold prices lower and down to test the next logical level at $1175 per ounce.
For the silver chart alongside on the left, the technical picture is almost identical to gold. Here the deep resistance in the $17.35 per ounce region is one that has been tested on several occasions, and holding firm on each. The most recent of these was last week, before the metal fell back and duly moved through the deep platform of support in the $16.70 per ounce area, and in this morning's silver trading session is now testing another key level at $16.10 per ounce. If this is breached, then like gold, the bearish tone is likely to pick up momentum, with a deeper move lower towards $15.25 per ounce in due course.
Volumes for both gold and silver remain broadly in line with the price action, with the trend monitor for silver now transitioning to red, highlighting further the change in sentiment.
By Anna Coulling
Charts are from NinjaTrader and the trading indicators from Quantum Trading.