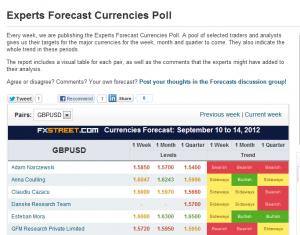 As an expert contributor to FX street, I provide a weekly forecast for the EUR/USD, GBP/USD, USD/JPY and the USD/CHF which are published every weekend. The forecast covers the next week, month and the quarter. Below is a link to this week's market analysis for the GBP/USD.
I will soon be adding regular market analysis to FX street as one of their contributors so please check back regularly on the main FX street site to catch up with my latest forecasts.
I also run regular Free live forex trading rooms, and if you would like to join me there, please just click on the link here.