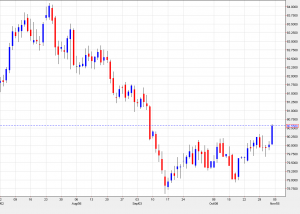 The US dollar index ended the day and the week in bullish tone, closing with a wide spread up bar on the daily chart at 80.55, as the index surged higher following the monthly release of the Non Farm Payroll data in the US, adding some much needed momentum for the US dollar. The numbers surprised the markets, coming in better than expected at 171,000 new jobs against a forecast of 123,000, which initially saw equity markets rise, before selling off during the remainder of the session, as the US dollar strengthened.
From a technical perspective, the US dollar index now looks set to strengthen further, following the breakout on Friday from the recent period of sideways consolidation in the 78.75 to 80.25 region, where the index has traded since mid September. Following Friday's close above the 80.25 level, this has now created a strong platform of support at this level, which should provide a solid springboard for a further move higher to test the next level of price resistance, which now awaits in the 81.50 region. To breach this region will take sustained buying as this extends through to the 83.25 area and beyond.
However, in the short term we are likely to see further weakness in commodities, particularly gold and silver, and the currency majors, before the index reaches this area of price resistance, which may result in a pause in any further strength for the US dollar. Bullish momentum may even come to an end at this level.
By Anna Coulling