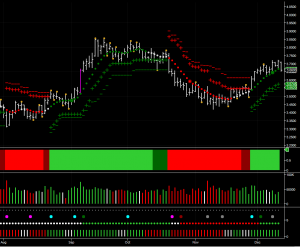 High grade copper has recovered some bullish momentum over the last few weeks, following the trend lower during late October, and for much of November, which saw the metal test the 3.4250 area, bouncing off price support in this level and climbing back to test the 3.7000 region where deep resistance now seems likely to bring the current rally to a temporary halt. For this trend to continue further, we now need to see sustained and rising buying volume on the daily chart, and what is particularly interesting, is that the recent move higher, has been accompanied by falling volumes, a sign of potential weakness.
Whilst trading volumes are likely to decline in general as we move into the year end, this feature of the volume bars does suggest weakness on the daily chart. On the three day chart, buyers remain firmly in control and with the three day trend having now transitioned from bearish to bullish, the longer term outlook remains bullish. Indeed on Tuesday, we received a confirming signal of the volume set up entry signal of late November.
The key for copper in the short to medium term is twofold. First, from a technical perspective, we are now approaching a deep and sustained area of price resistance between the 3.7500 and the 3.9000 on the daily chart. This area is peppered with isolated pivot highs, and for any move through this region, we will need to see the market's only leading indicator, volume, come into play. To breach this area will take sustained buying by copper bulls, and only rising prices coupled with rising volume will see this level broken. If buyers fail to appear in the required numbers, then we can expect to see further weakness in the longer term, as the commodity rolls over from the current level and moves lower once again to test the platform of support now in place at the 3.4500 region.
In summary therefore, in the short term, the outlook remains bullish, but the imminent price resistance above, now holds the key to the longer term. If daily volume rises, this may give copper the necessary impetus to move through and beyond this resistance. If the volume fails to appear, then expect to see the metal sell off once again.
By Anna Coulling